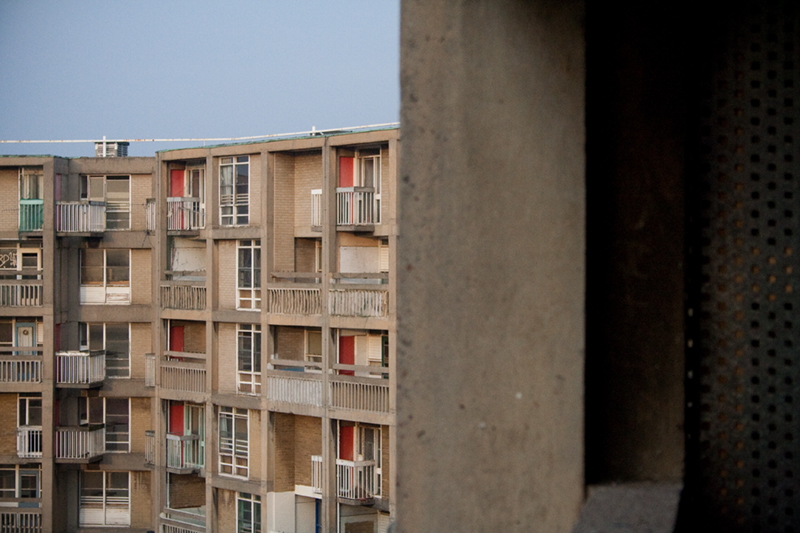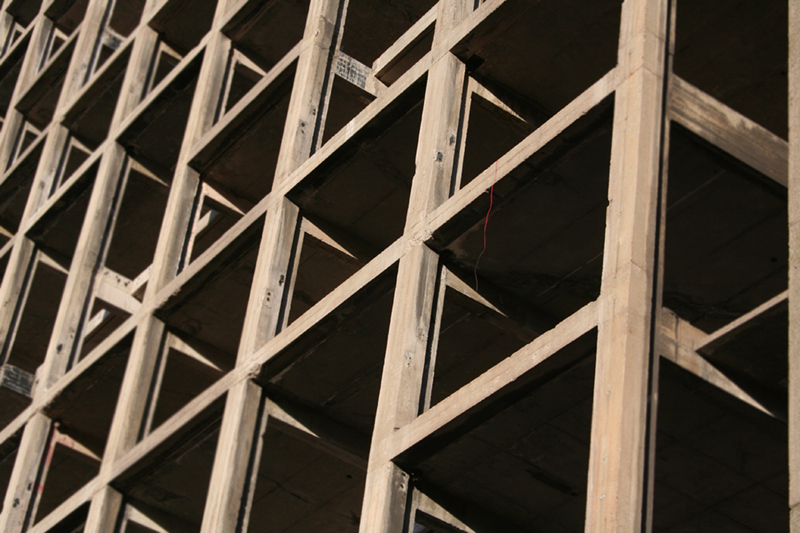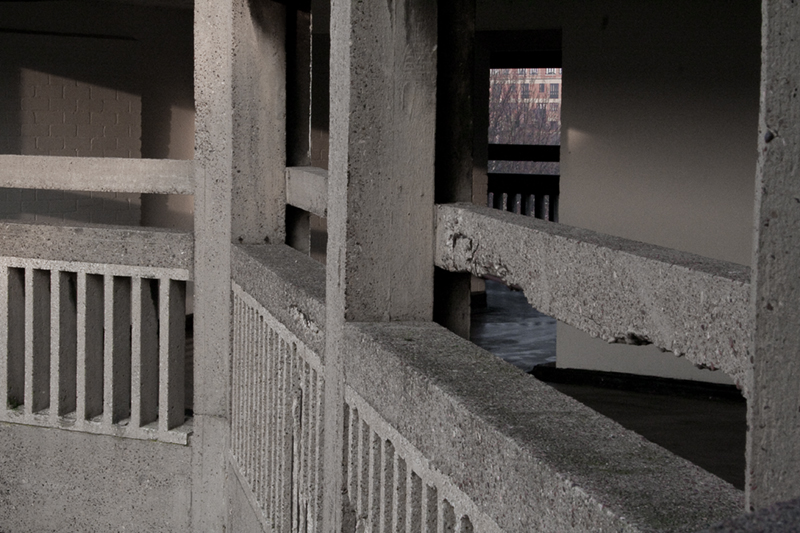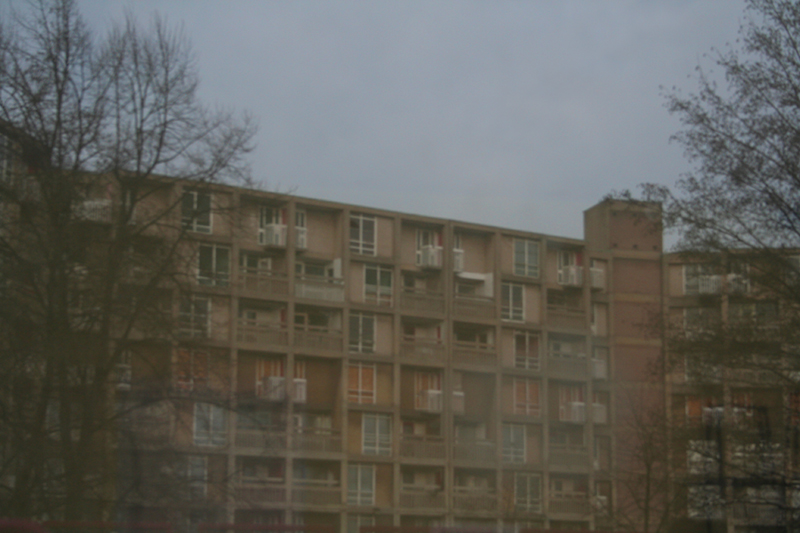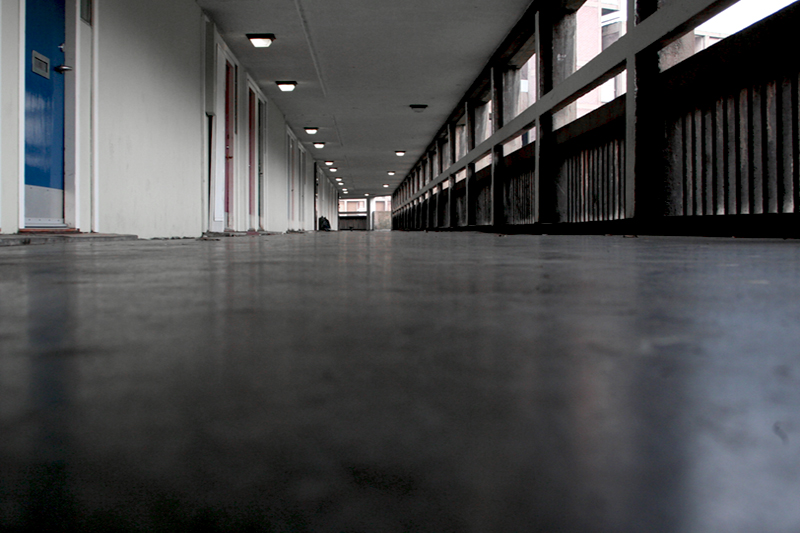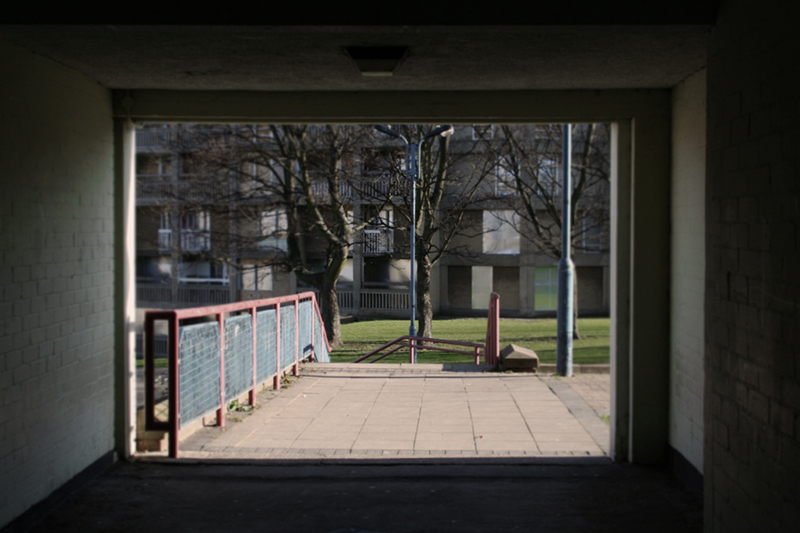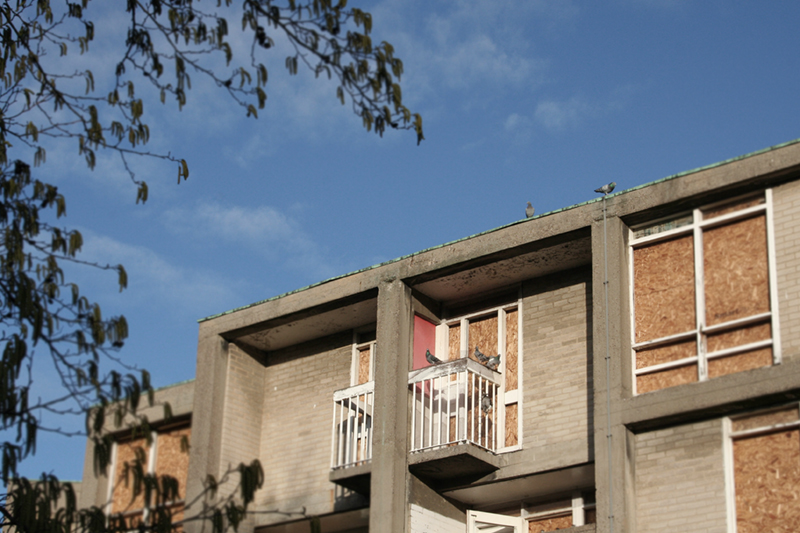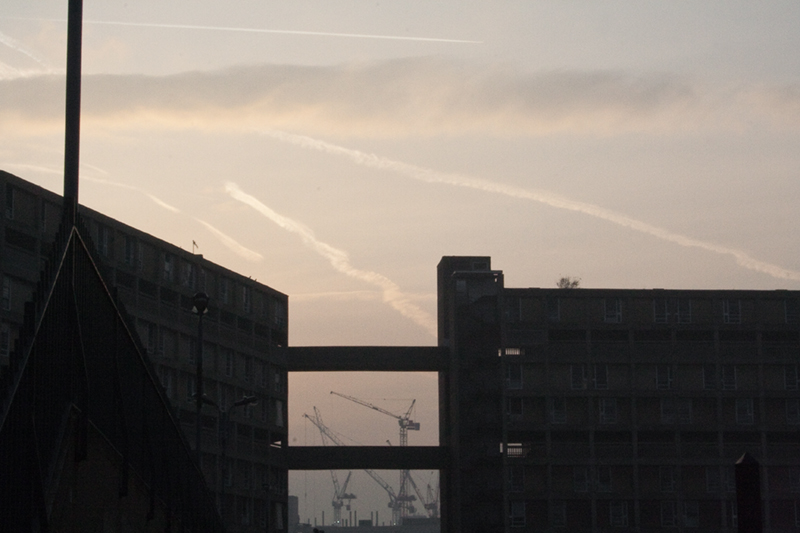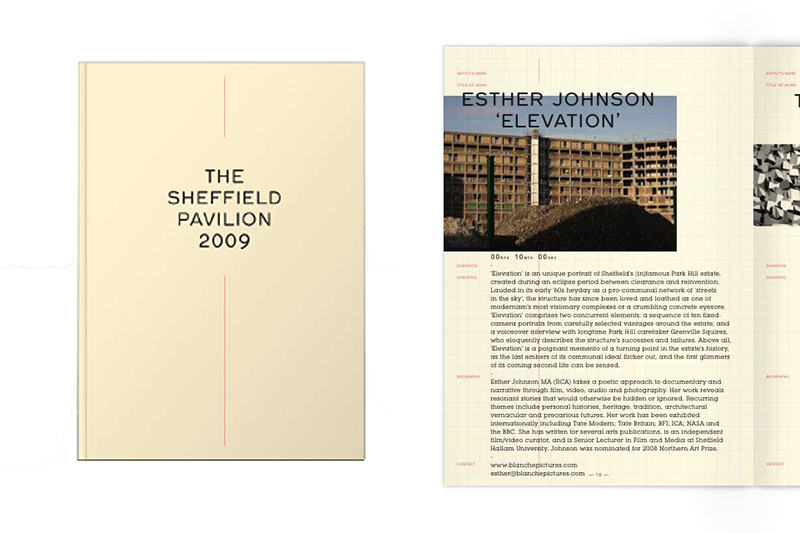 A film by Esther Johnson Year: 2009
Duration: 00:10:00
Language: English
Country of Production: UK
Production Format: HD
Screening/Exhibition Format: DCP
Picture: Colour
Sound: Stereo
Distribution: Blanche Pictures
Credits
Cinematography/Sound/Edit: Esther Johnson
Featuring: Grenville Squires
Commissioned by Sheffield Contemporary Art Forum [now Art Sheffield] for The Sheffield Pavilion 2009  artists' film DVD and book publication.
The work premiered at the 11th International Istanbul Biennial.
---
Elevation is an unique portrait of Sheffield's in/famous Park Hill estate, created during an eclipse period between clearance and reinvention. Lauded in its early '60s heyday as a pro-communal network of 'streets in the sky', the structure has since been loved and loathed as one of modernism's most visionary complexes or a crumbling concrete eyesore. Elevation is a poignant memento of a turning point in the estate's history, as the last embers of its communal ideal flicker out, and the first glimmers of its coming second life can be sensed.
The film comprises two concurrent elements: a sequence of ten fixed-camera portraits from carefully selected vantages around the estate; and a voiceover interview with longtime Park Hill caretaker Grenville Squires, who eloquently describes the structure's successes and failures.
---
Awards

Finalist International Competition 12th Bandits-Mages Festival Bourges, France
Solo Gallery Exhibition
Work by Esther Johnson La Vidéothèque Nomade Brass Centre Cultural de Forest, Brussels, Belgium 12.03.15
Group Gallery Exhibition
A Modern Romance 20–21 Visual Arts Centre, Scunthorpe, UK 03.03.12–19.05.12
Brutalist Speculations & Flights of Fancy Site Gallery, Sheffield 09.09.11
This is Not a Gateway Hanbury Hall, London 21–24.10.10
Urban Voids and Absences Turn-Berlin Gallery 27.04.10–21.05.10
Voges Gallery Frankfurt am Main Germany 10.03.10
Cross-Cutting Sierra Metro Edinburgh 12–22.12.09
Sheffield Pavilion 11th International Istanbul Biennial 10–15.09.09
The Super Estate: EXHIBIT Gallery, London 06.07.09
Film Festival and Special Events

Sheffield Modern Architecture Weekend Picture House Social, Sheffield 14:00 28.10.18
Reel Femme – Portraits DINA, Sheffield 19:00 13.09.17
Showroom Shorts: SYFN Sheffield 08.05.12
12th Bandits-Mages Festival Bourges, France 16–20.11.11
archinoise #1 Christ Church Spitalfields, London 06.10
Sheffield Pavilion Showroom, Sheffield 02.02.10
Kassel Documentary Film and Video Festival Germany 10–15.11.09
Civic: Light Night Leeds 09.09
Expo: Leeds 25–28.09.09
Conference and Symposia
Modern Futures: AHRC Workshop and Screening University of Central Lancashire Preston, UK 23.01.15
Local Anaesthesia: the desensitisation of the urban experience 198 Contemporary Arts, London 27.05.11