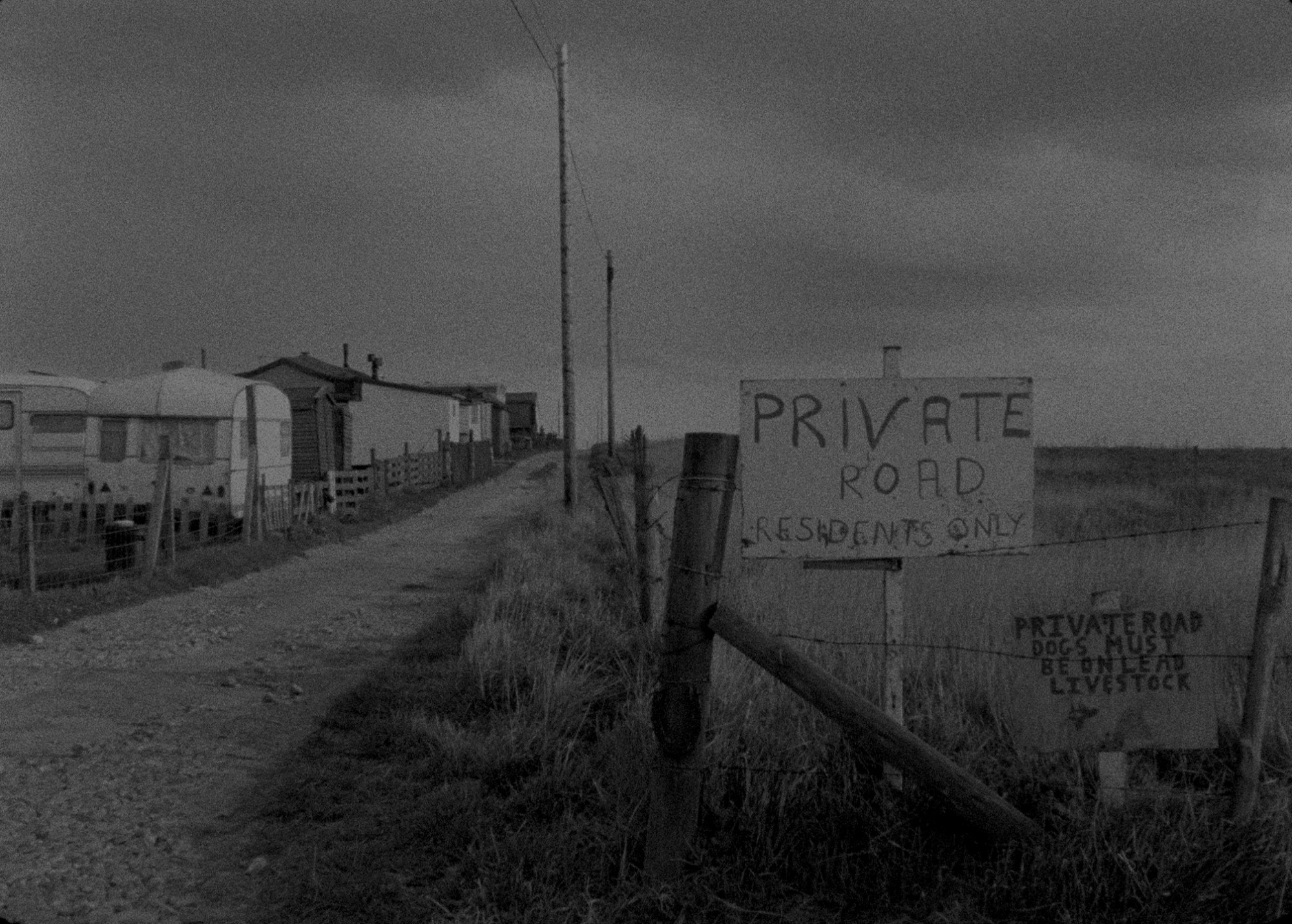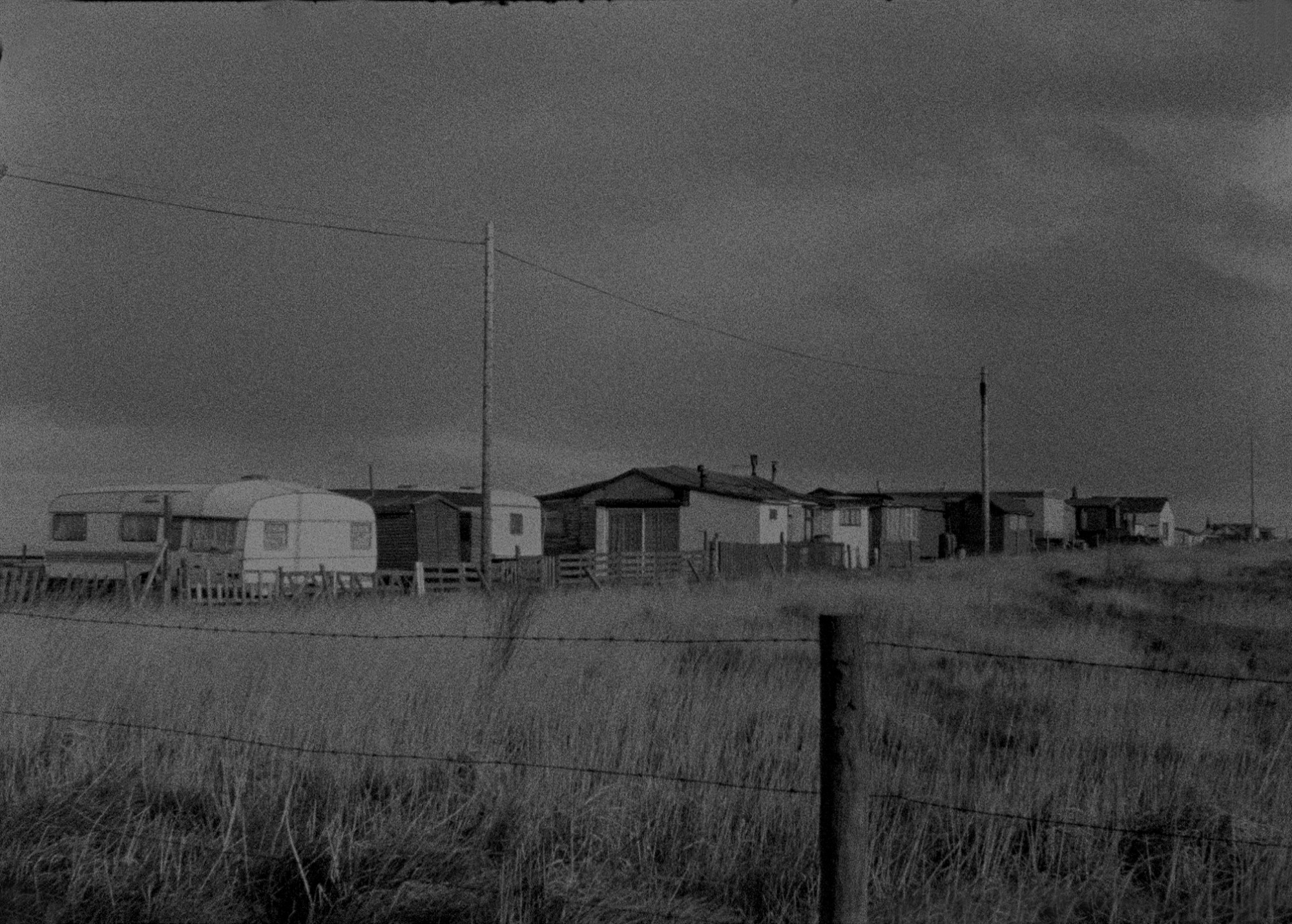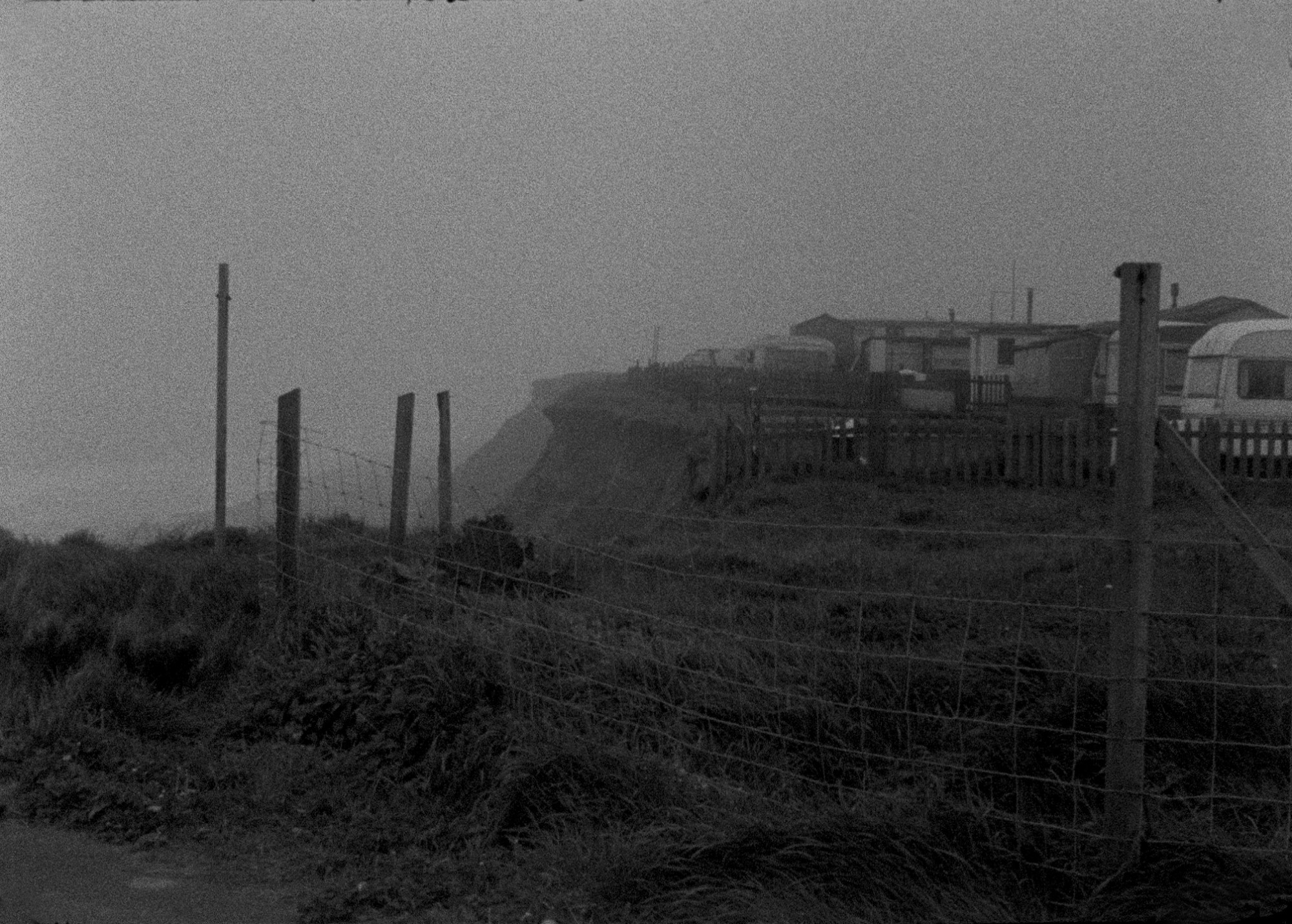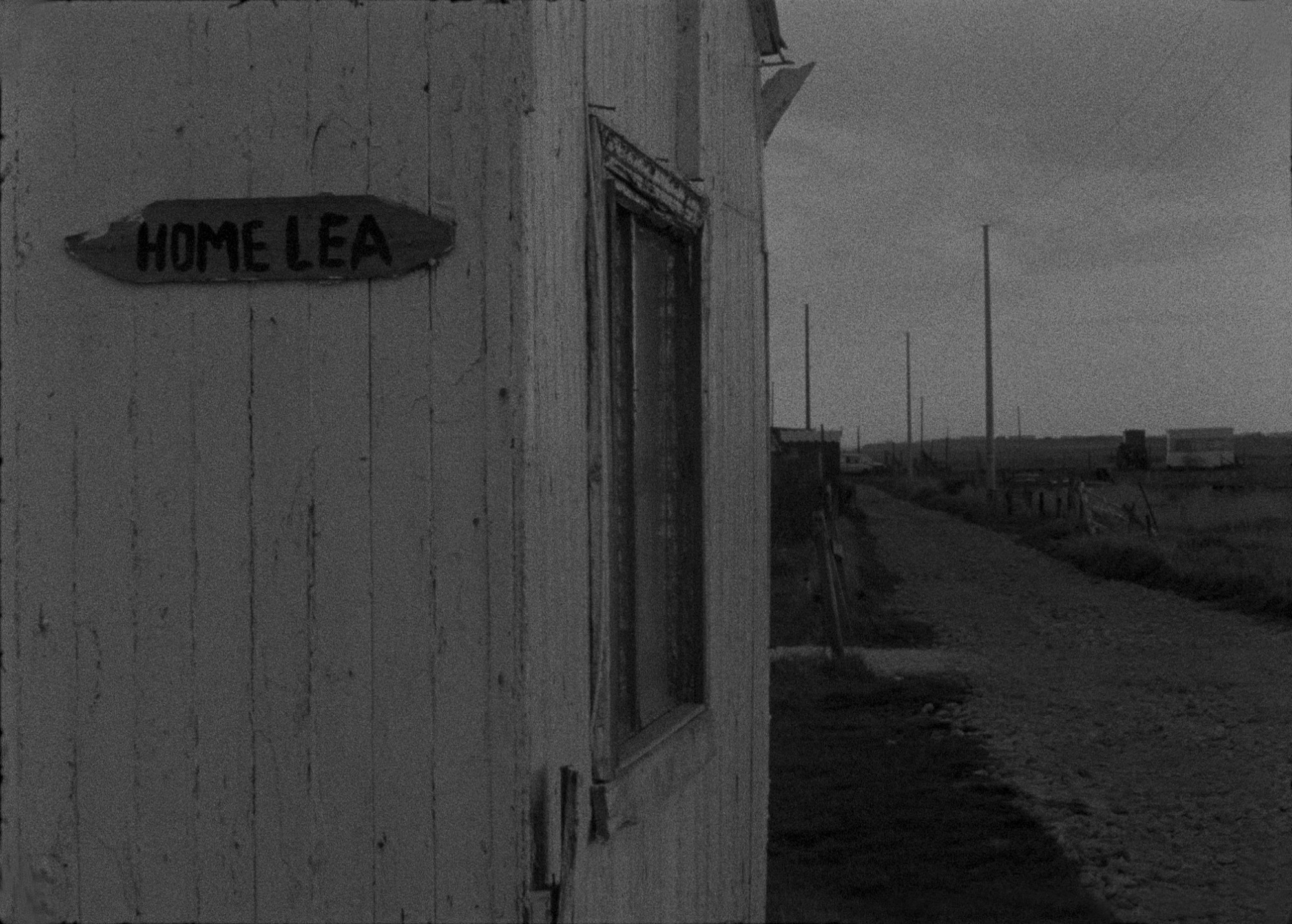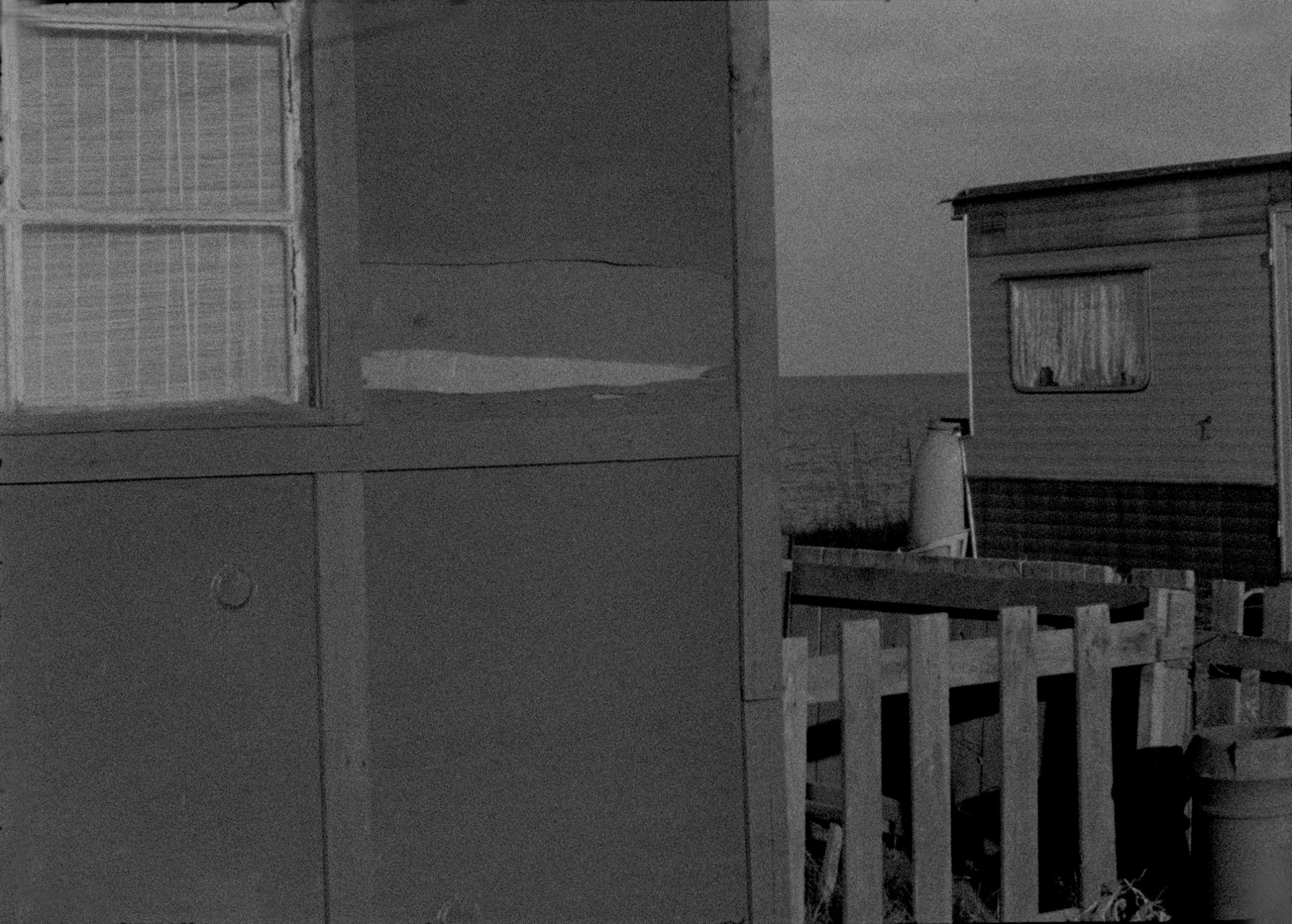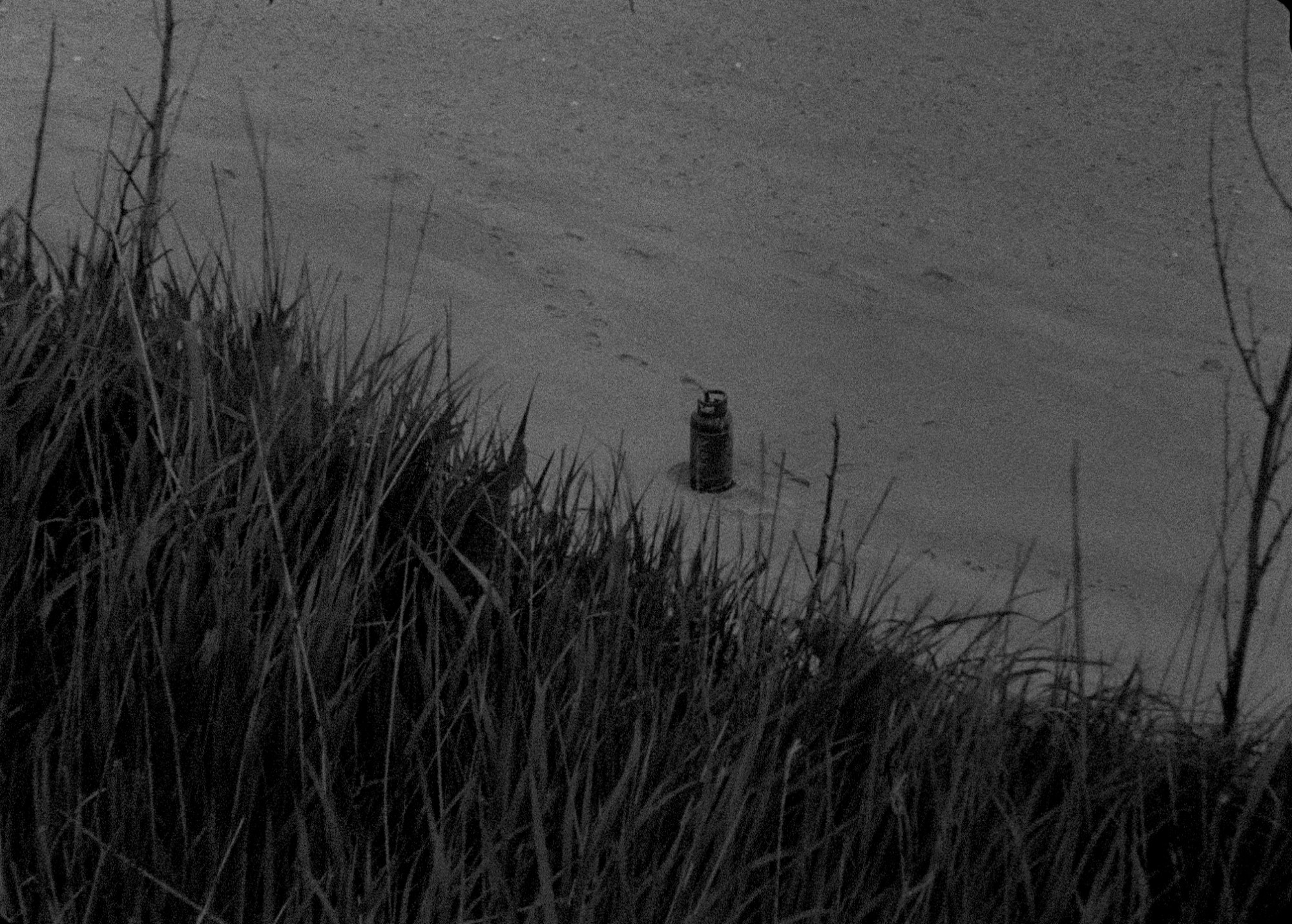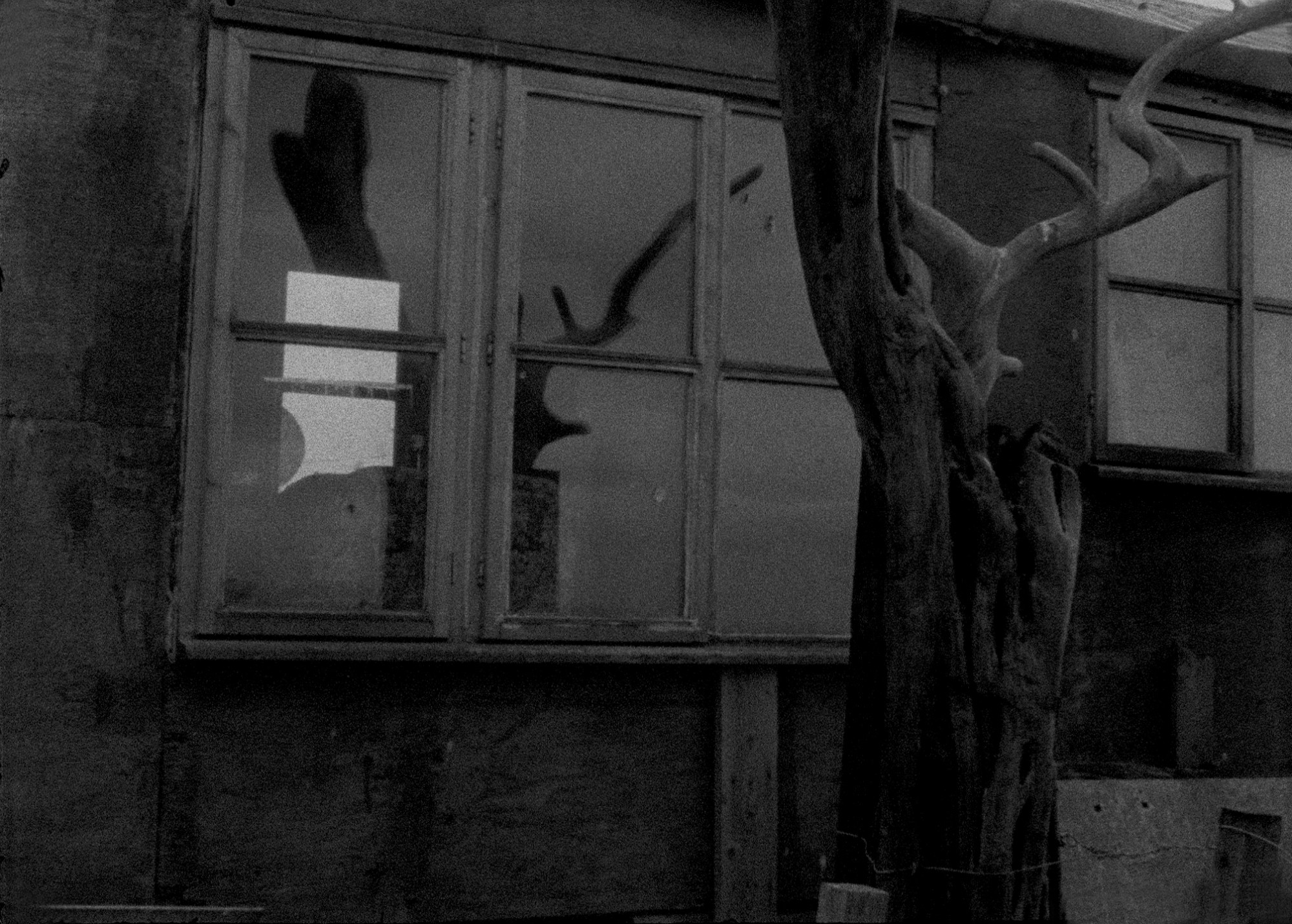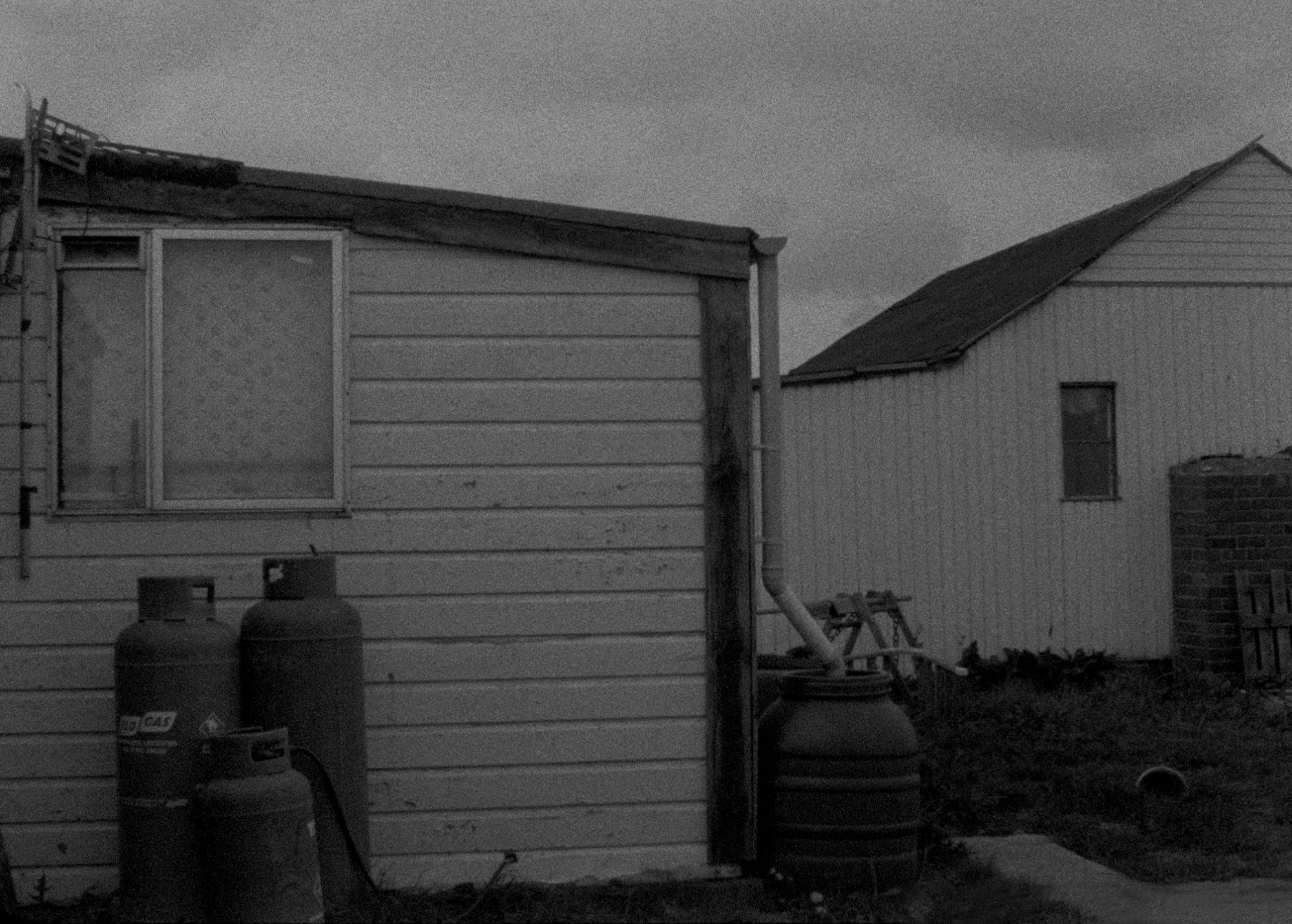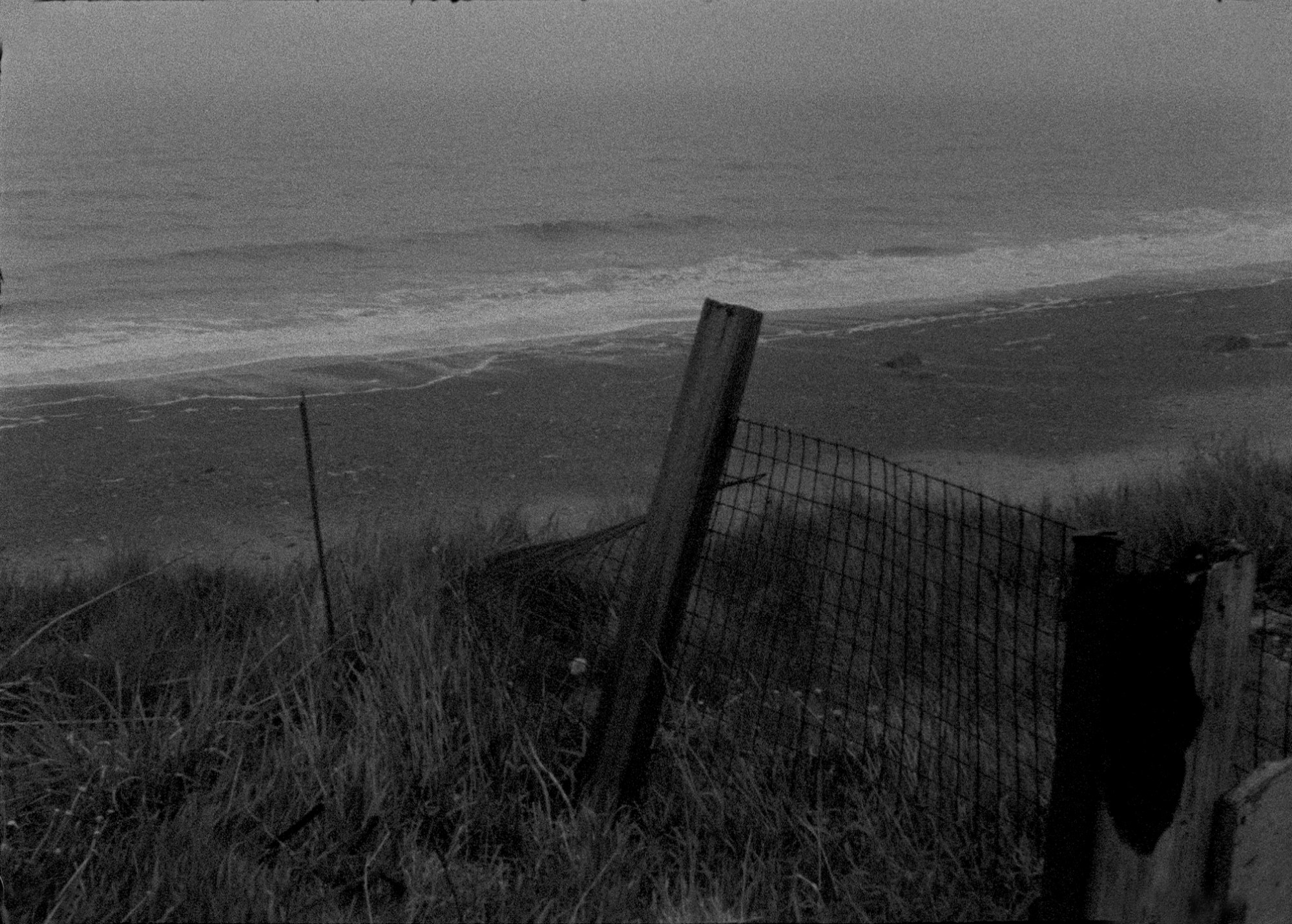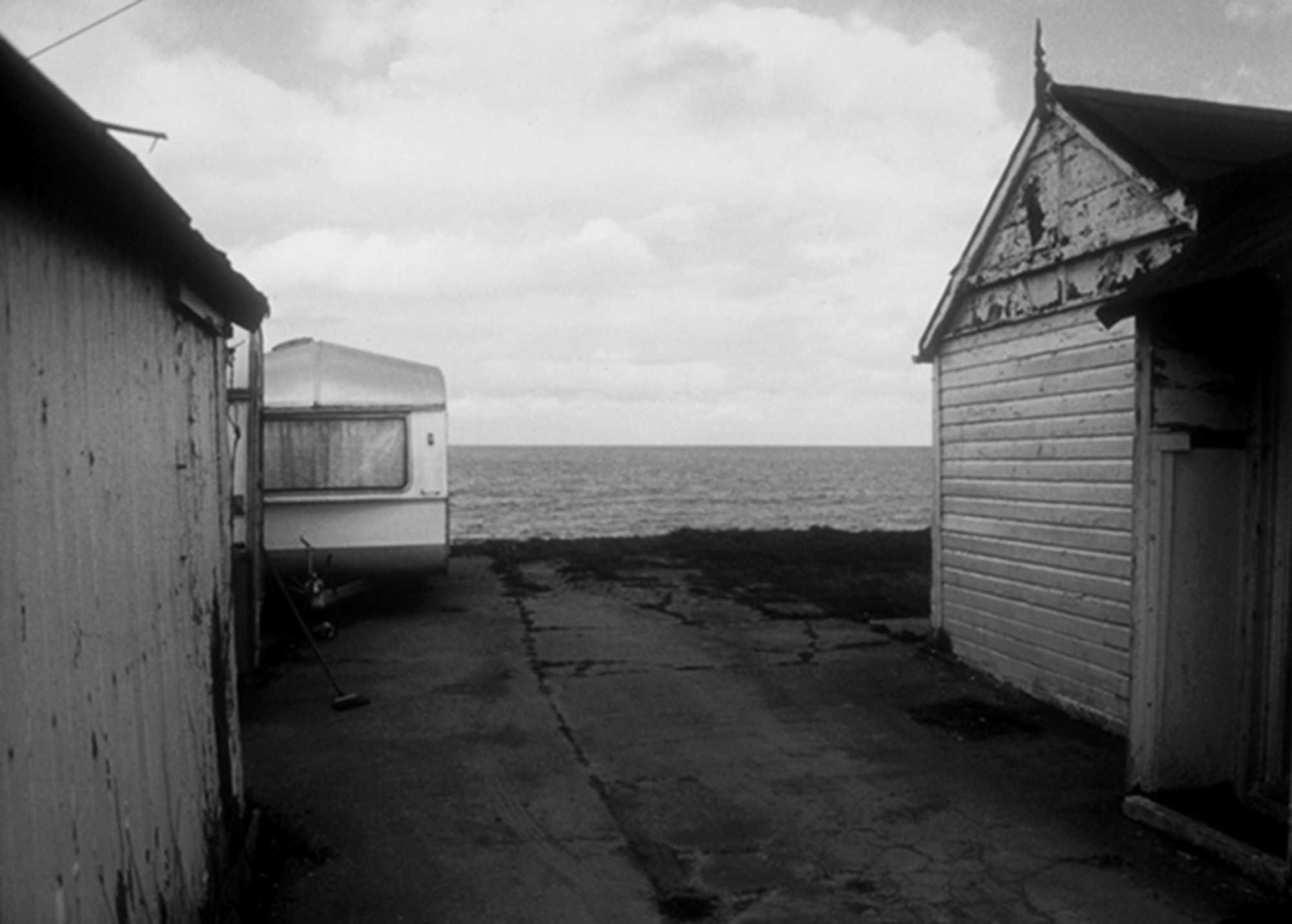 A film by Esther Johnson
Year: 2002
Duration: 00:10:00 and 00:12:00 versions
Language: English
Country of Production: UK
Production Format: 16mm Film
Exhibition Format: HD
Picture: B/W
Sound: Stereo
Distribution: ARGOS
Featuring: The residents of Skipsea, East Yorkshire
Reviews
---
Focusing on an East Yorkshire community which live on the fastest eroding coastline in Europe, Hinterland asks how it feels to live in such a precarious situation with homes fatally threatened by the elements.
The narratives of three Skipsea residents are explored. Charlie believes he has fifteen years until the land on which his house stands falls into the sea; Saffron speaks of how she always has a backpack ready to make a swift escape; and Peter recalls how far out the land reached in WWII, when he was a young man.
"…an unusual film, HINTERLAND shows the concept of 'home' as a component of the past, present and future, and how the concept of 'at home' as a place of withdrawal and protection can lose their meaning."
– Renate Gervink Femme Totale Film Festival 2003
"…This story of erosion is a story of our own impermanence and the fragility of our existence."
– Stan Frankland Figuring Landscapes catalogue 2008
Retreating the Line is the follow-up film to Hinterland.
---
Awards
Winner Chris Garnham Award Royal College of Art, London
Winner BBC Audience Award 2nd Hull International Short Film Festival
Finalist Louis Le Prince Award 16th Leeds International Film Festival
Finalist Lux Award Halloween Film Festival
Finalist International Competition Zinebi International Festival of Documentary and Short Film
Solo Gallery Exhibition
Work by Esther Johnson La Vidéothèque Nomade Brass Centre Cultural de Forest, Brussels, Belgium 12.03.15
Group Gallery Exhibitions
Somewhere Becoming Sea Humber Street Gallery, Hull 05.04.17–17.06.17
Figuring Landscapes Dell Gallery, Queensland College of Art Brisbane, Australia 2011
Figuring Landscapes Mermaid Gallery County Wicklow, Ireland 17, 24, 26.09.09
Annexinema Nottingham 11.09.09
The Super Estate EXHIBIT Gallery London 06.07.09
Figuring Landscapes Site Festival, Stroud Valley Artspace 02, 09, 16, 23, 30.06.09
Figuring Landscapes Chapter Arts Cardiff, Wales 03, 10, 17, 24, 27.05.09
Figuring Landscapes Ivan Dougherty Gallery, The College of Fine Arts, UNSW Sydney, Australia 02–25.04.09
North Temporary Art Space Halifax 03–24.04.09
Figuring Landscapes Vivid Birmingham 25–28.02.09
Figuring Landscapes FACT Liverpool 23–25.02.09 and 02–04.03.09
Figuring Landscapes Dundee Contemporary Arts Scotland 23–27.02.09
Figuring Landscapes Artsway Hampshire 25–30.11.08
Archepology Bureau Gallery Salford 10–12.06
FACT, Liverpool 05.06
Ennui S1 Art Salon S1 Artspace, Sheffield 02.05
Area 10 OMSK London 12.04
Field of Vision Lab Gallery New York 11.04
Recent works by Esther Johnson Squeaky Wheel Buffalo, New York, USA 10.04
Island Art Film and Video Festival, Prenelle Gallery London 03.04
Lux Open, Royal College of Art London 04.03
Domestic Space, Aspex Gallery Portsmouth, UK 01.03
The Show Royal College of Art, London Chris Garnham Award 2002
Film Festivals and Special Events
Bodies of Water The Gallery Bridport 14.01.17
Bodies of Water Focus 8 Methodist Chapel, West Bay, Bridport 20.08.16
Surface Deep, Bodies of Water Cornwall Film Festival, Redruth 14.11.15
White Lantern Bournemouth UK 11.10.11
Arts Bournemouth by the Sea Festival, The Vintage Mobile Cinema 24.09.11
Figuring Landscapes Melbourne Cinematheque Australia 31.03.10 and 07.04.10
Figuring Landscapes Cinecity, Brighton Film Festival 22–29.11.09
OXDOX, Oxford International Documentary Film Festival 25.04.09
Figuring Landscapes Glimmer 7th Hull International Short Film Festival 21–26.04.09
Figuring Landscapes Showroom Sheffield 30.03.09–02.04.09
Urban Screens Melbourne 08 Australia 03–08.10.08
Imaginary Landscapes The Guardian Hay-On-Wye Lilterary Festival Wales, UK 05.07
Microcinema International San Francisco, USA 11.04
Festival of New British Cinema The Nova Brussels, Belgium 09.04
Windows Wide Open Architecture Week Winter Screenings, Side Cinema Newcastle, UK 2004
Halloween Film Festival, ICA, London 01.04
Zinebi International Festival of Documentary and Short Film Bilbao, Spain 11.03
3rd Hull International Short Film Festival 05.03
8th Portobello Film Festival, Westbourne Studios London 07.03
Creatrix Hull 07.03
Pesaro Film Festival Italy 06.03
Cannes Film Festival, UK Film Centre 05.03
Femme Totale Film Festival Dortmund, Germany 03.03
16th Leeds International Film Festival 10.02
10th Raindance Film Festival, The Other Cinema London 10.02
2nd Hull International Short Film Festival 10.02
Television Broadcasts
Propeller TV, Sky Channel 195 01.04.07 and 08.04.07
Propeller TV, Sky Channel 195 11.06.06, 06.08.06 and 23.12.06
Conference, Symposia and Seminars

Sounding The Sea Symposium Hull University, Middleton Hall, Hull 15.06.17–16.06.17
Hinterland and Retreating the Line Research Seminar, School of Art, Design and Architecture, Plymouth University 10.05.17
Bodies of Water Plymouth University 11.02.15
Bodies of Water Royal West of England Academy, Bristol 03.05.14
Figuring Landscapes Symposium TATE Modern London 06–08.02.09
My Climate Change The Science Museum, Dana Centre London 03.06
Sasa, International Centre of the United Nations Environment Program, Rome, Italy 2005
Links
British Artists' Film and Video Study Collection Central Saint Martins, University of the Arts, London