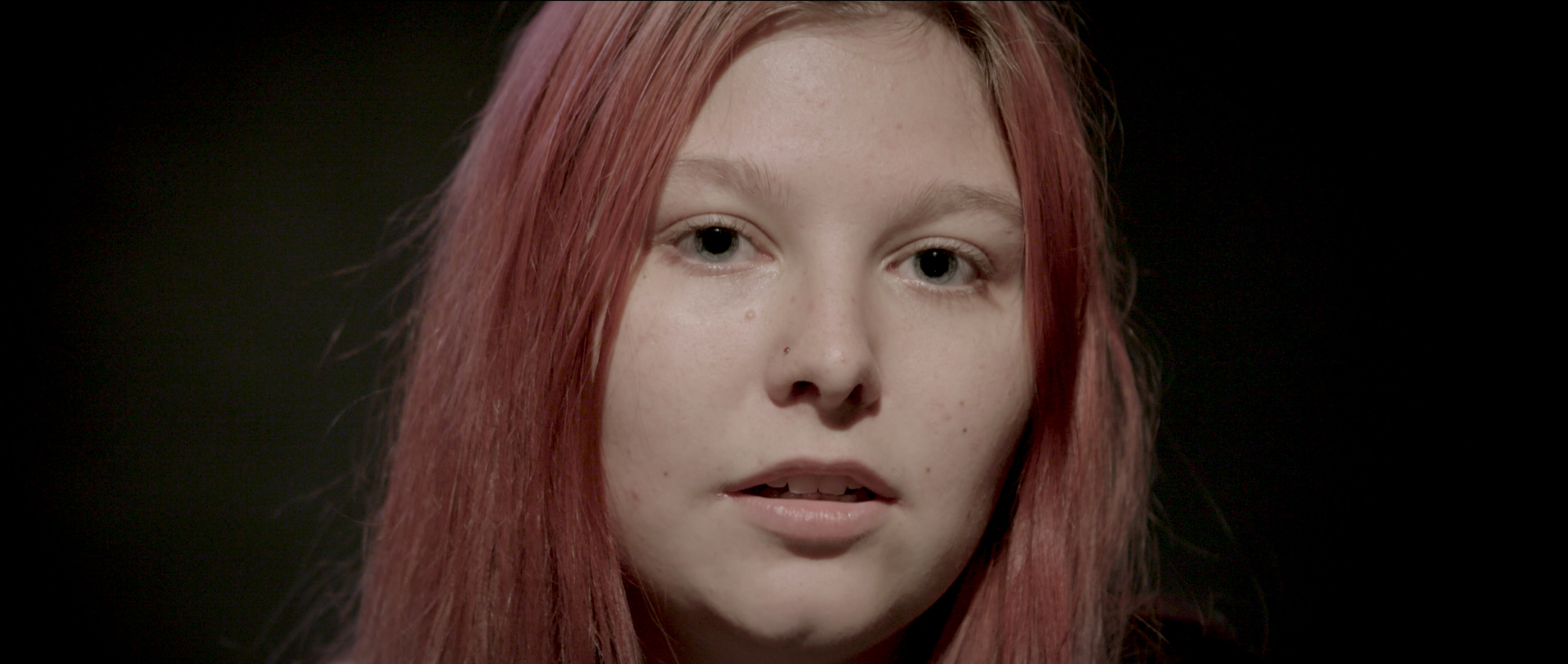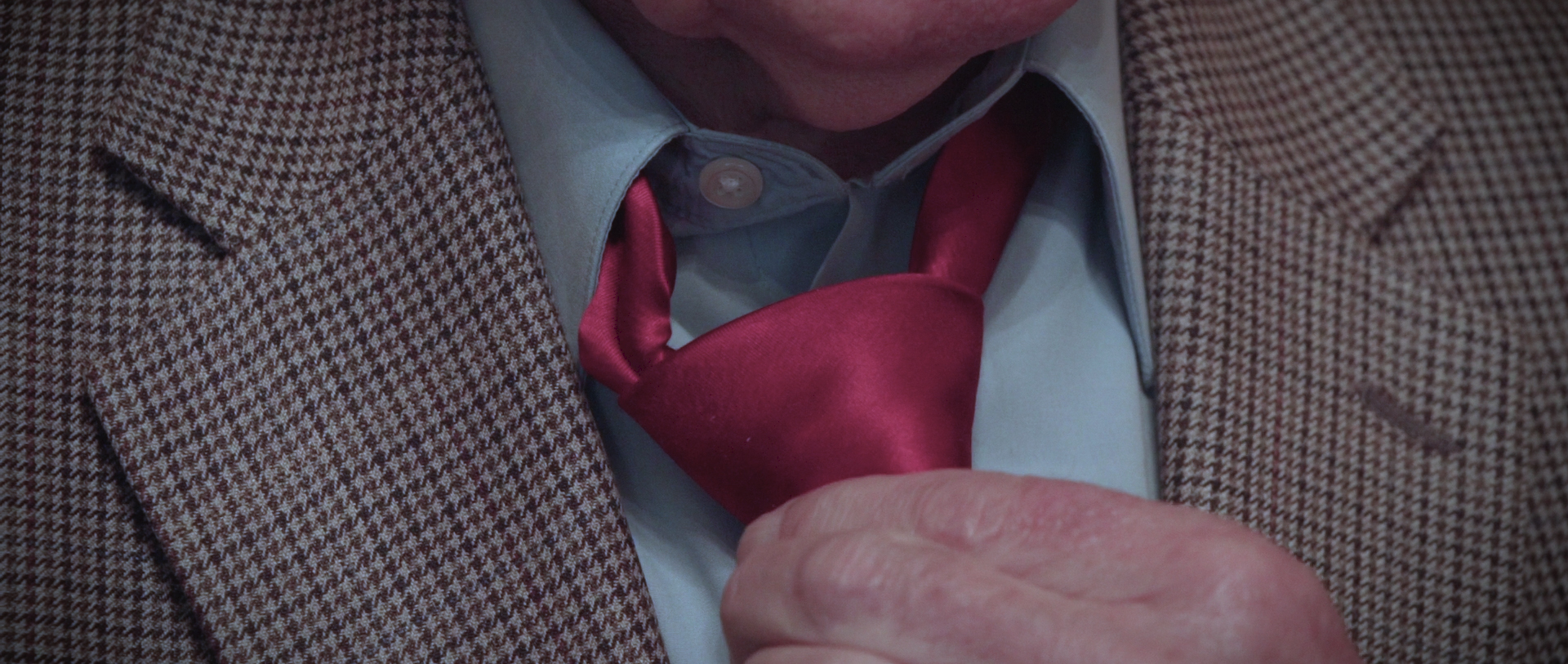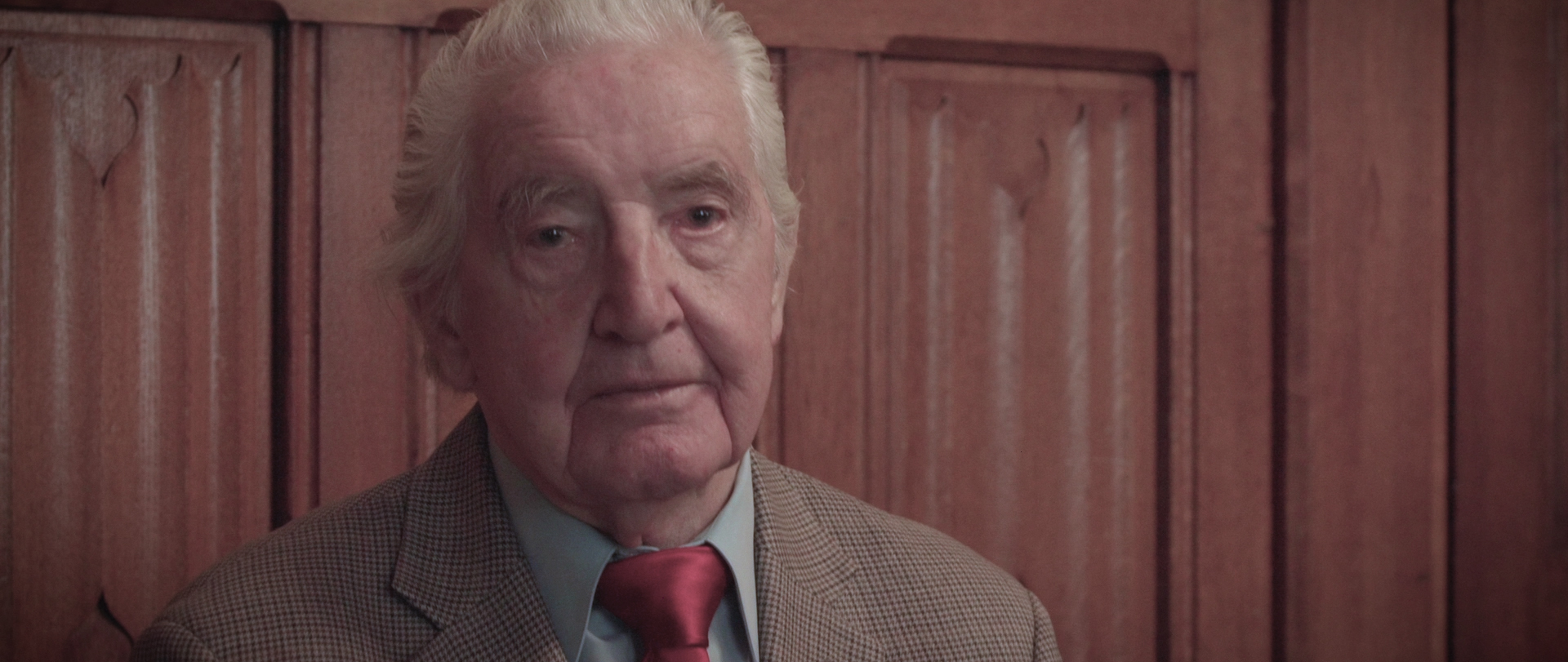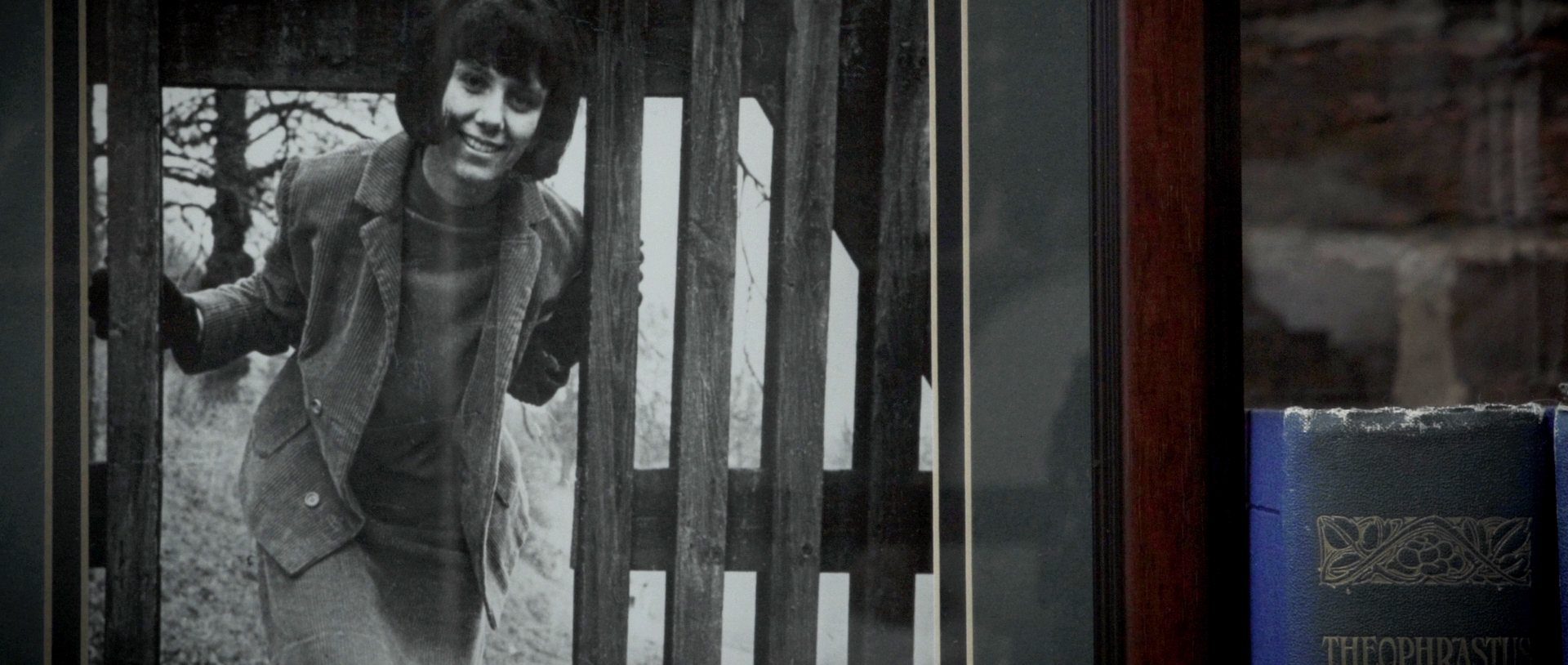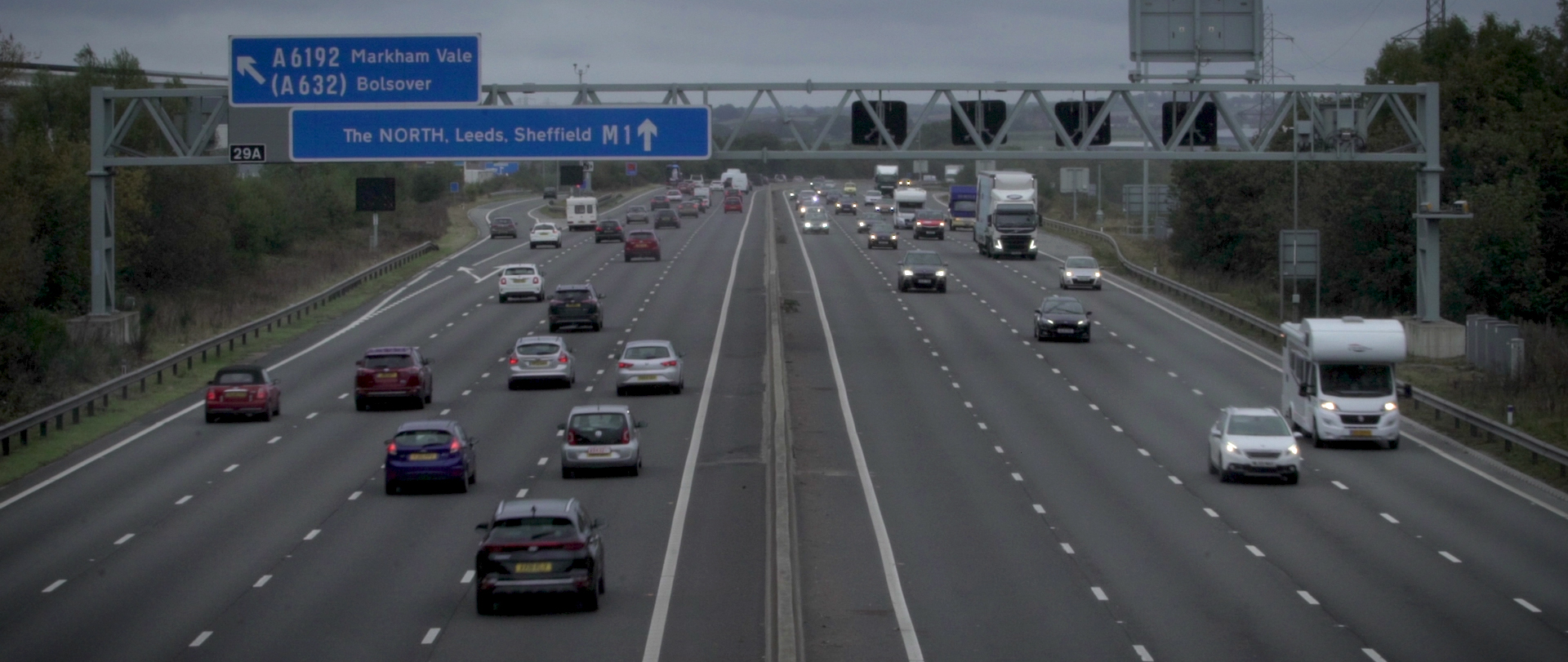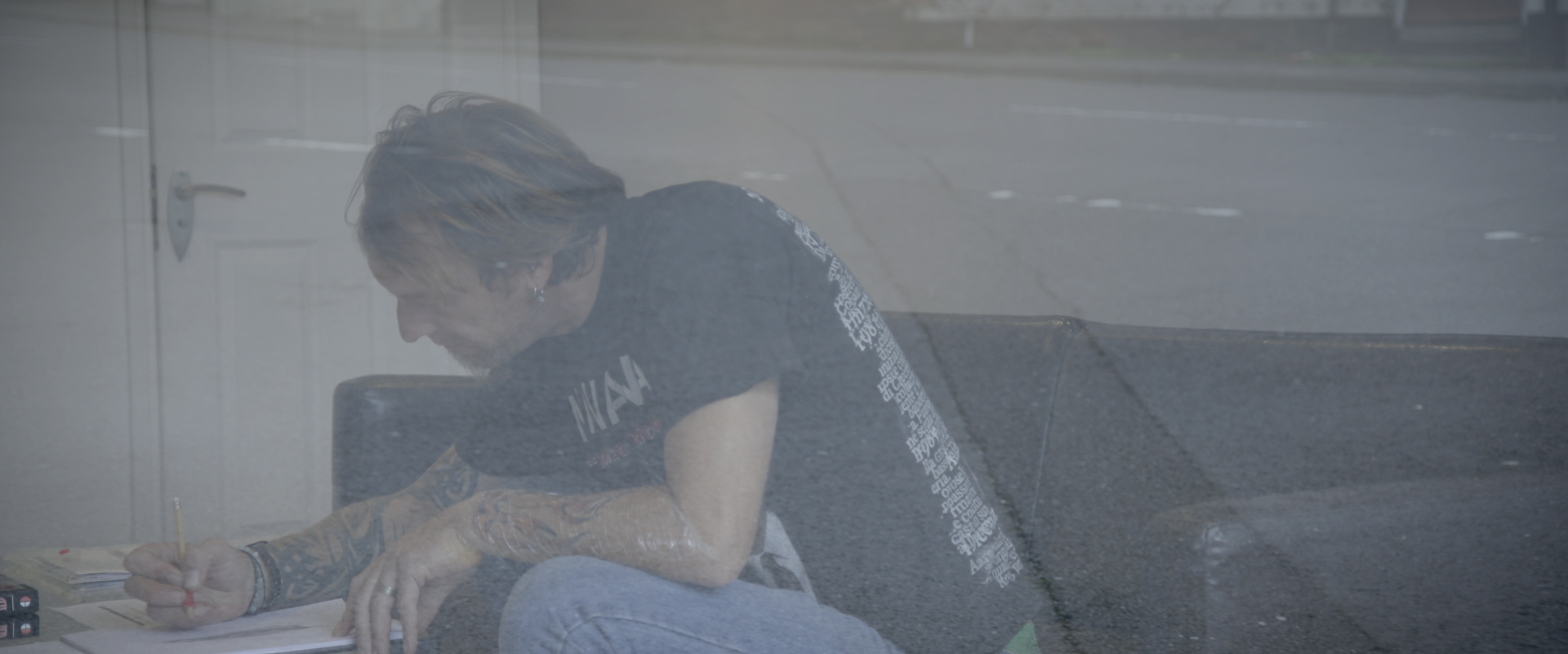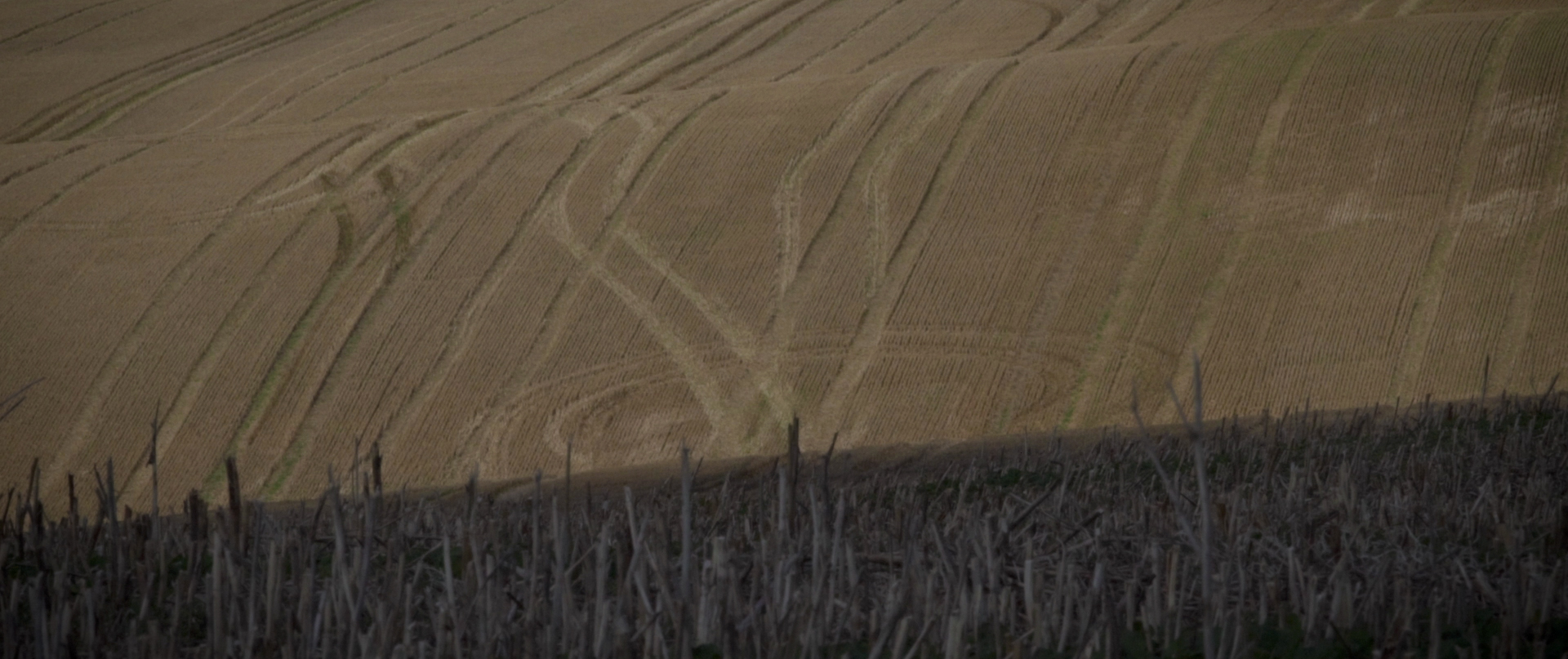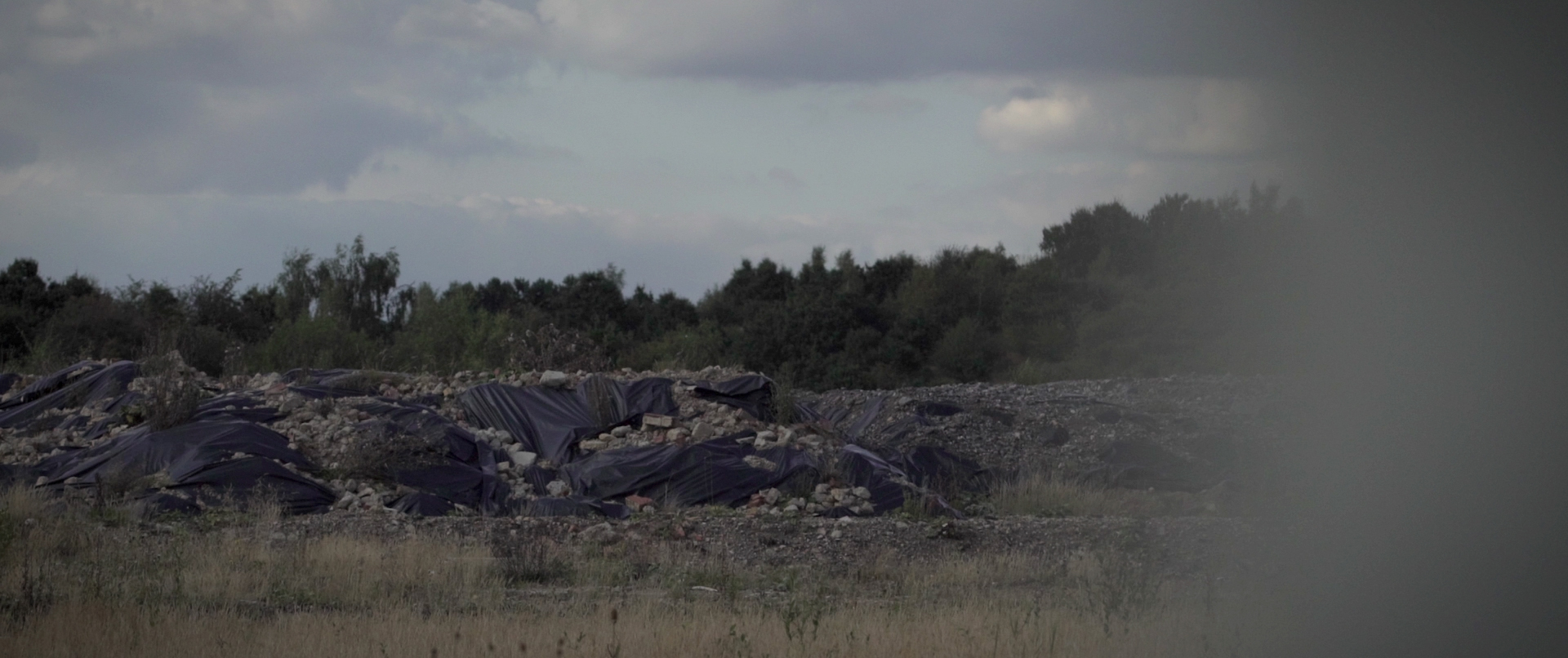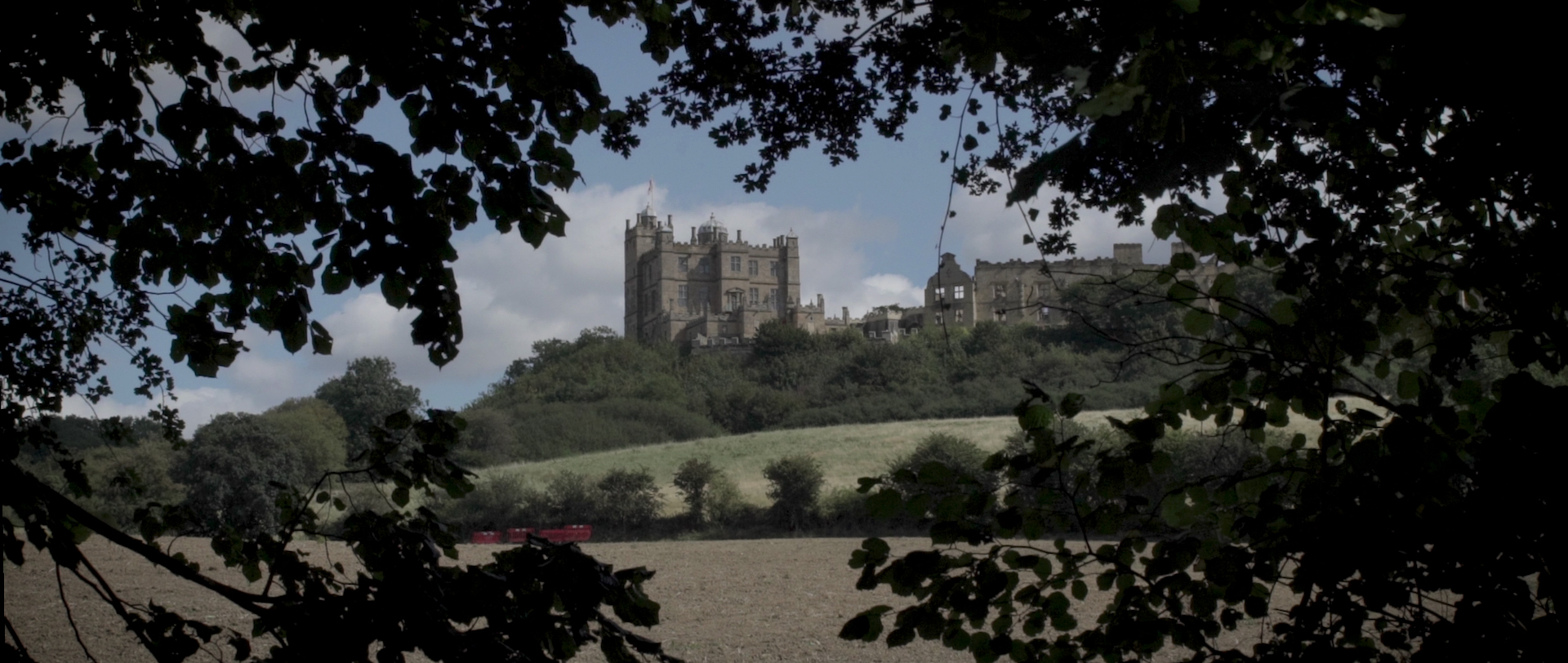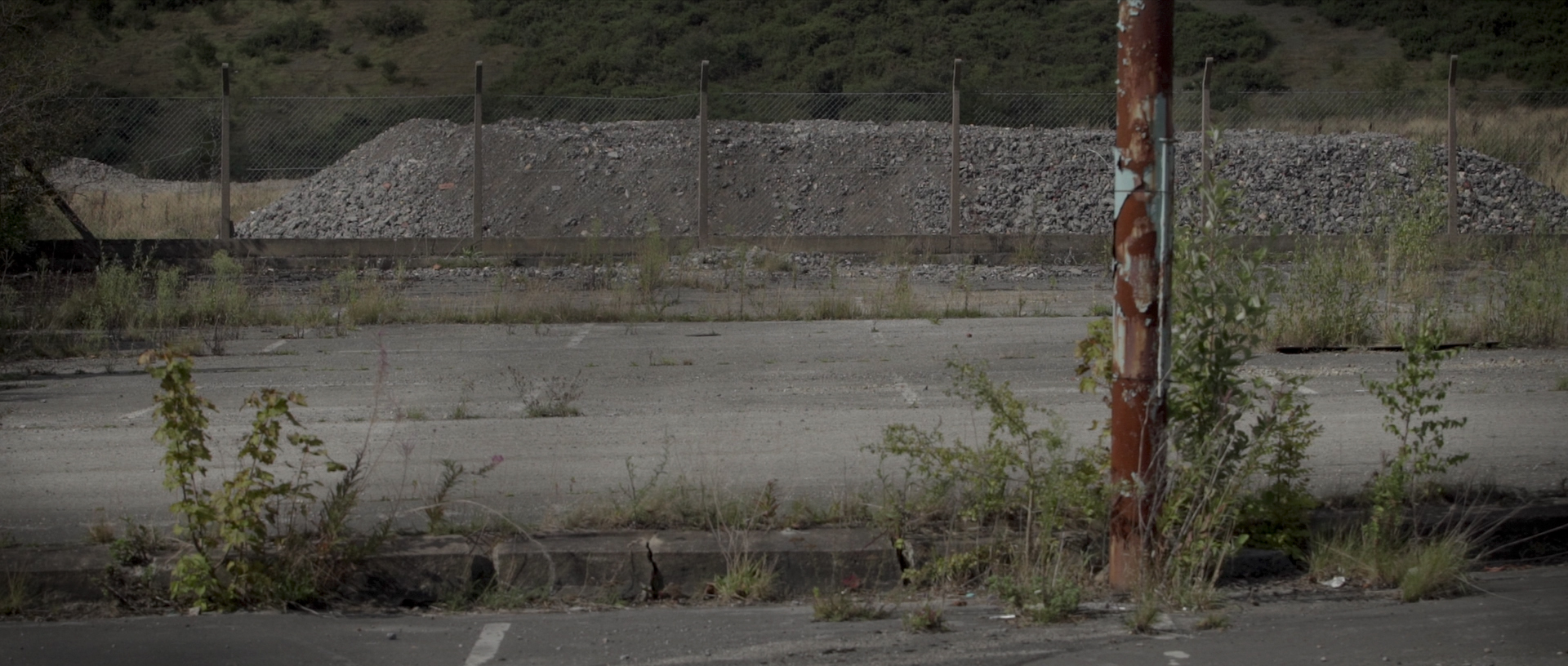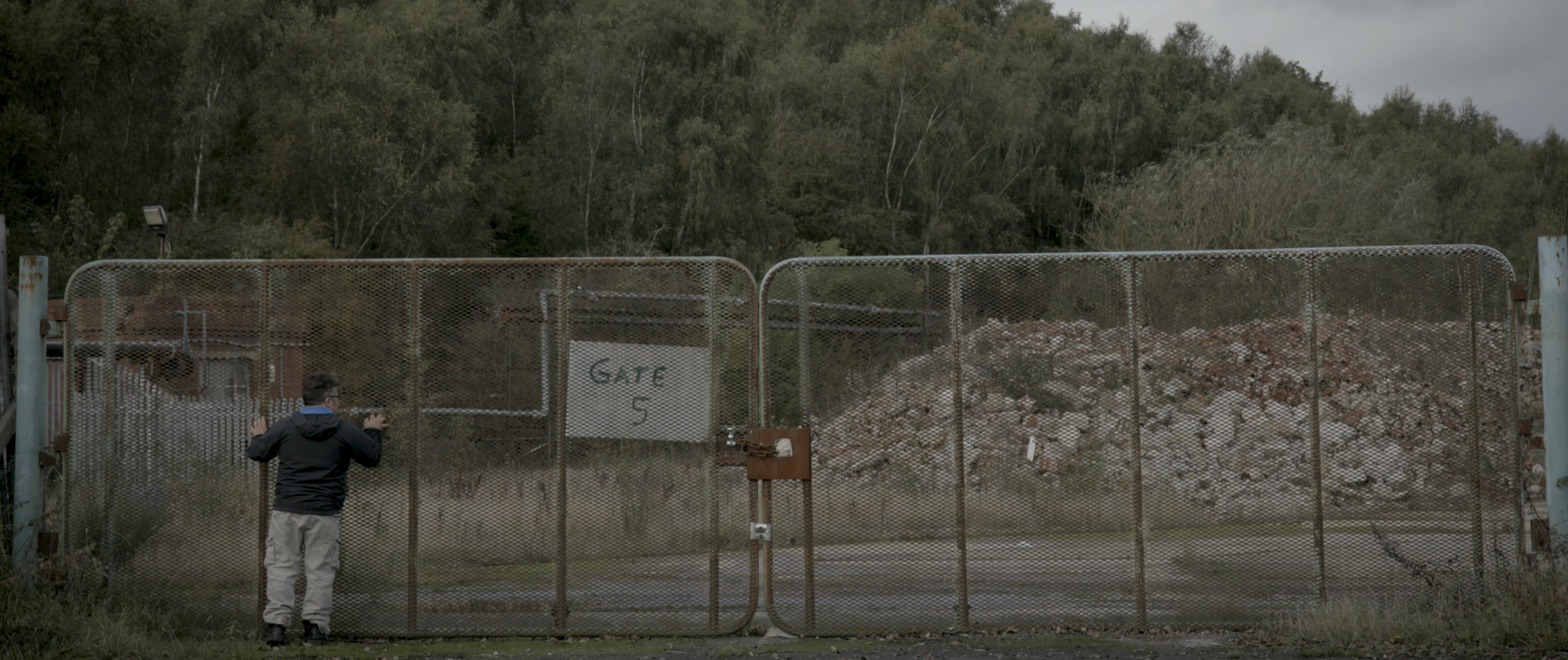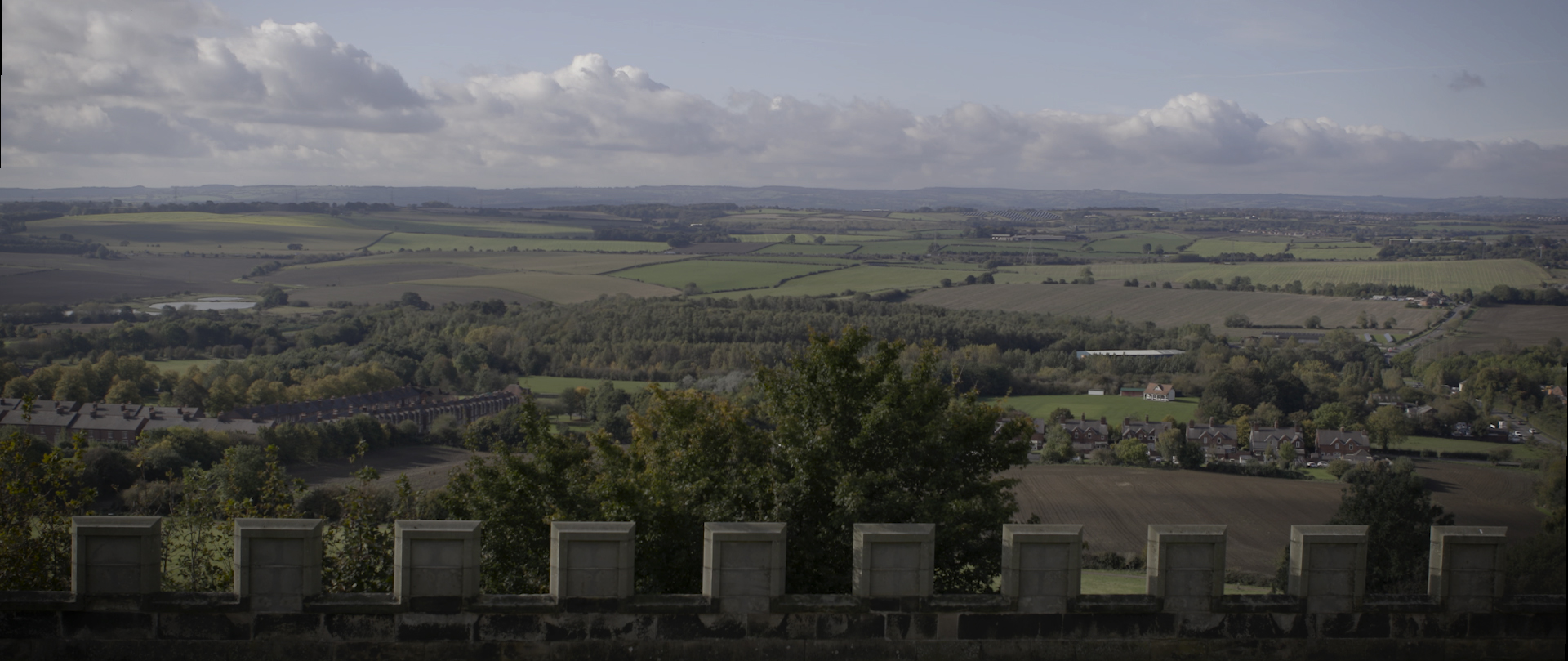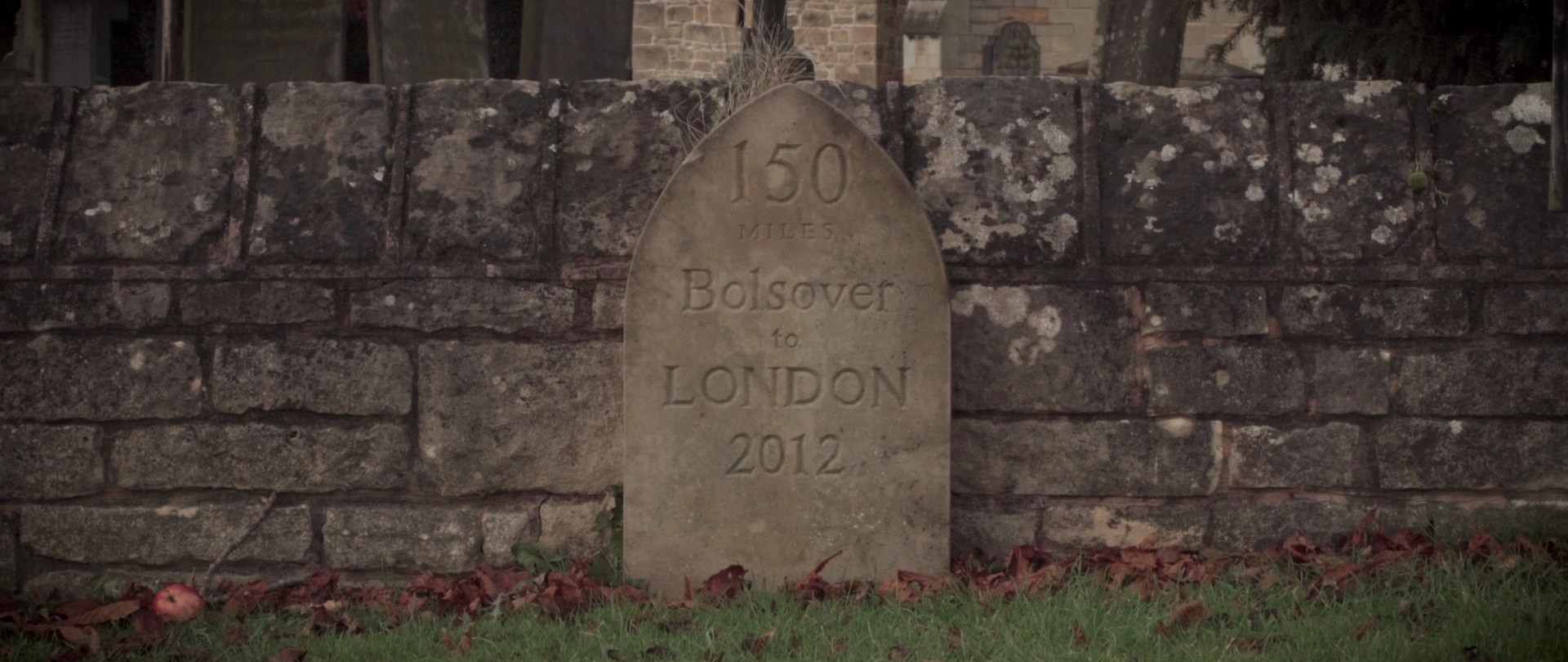 a ROLE to PLAY
2019 // 17′ // HD // UK // workprojects.org.uk/a-role-to-play
directed, produced and edited by
Esther Johnson
featuring
Stephen Cotton
Adrian Drury
Jeanette Haigh
Serena Hammond
Dennis Skinner
cinematography
Dominic Green
Esther Johnson
sound design
Chu-Li Shewring
sound recording
Esther Johnson
Darryl Peat
music
Flow my Tears (Lachrimae Pavane)
by John Dowland
performed and arranged by
Adam D J Taylor
thanks to
Freedom Centre users, volunteers and staff
Bolsover Castle
English Heritage
Bernard Haigh
John Platts
Past Lives Project
Jaimie Boxx
Shealeigh Clark
Emily Tubb
and the community of Bolsover
executive producers
Amy Smith for Junction Arts
Abigail Addison, Gary Thomas for Animate Projects
Screenings
WORK plus artist Q&A, Bolsover Assembly Rooms 19:00 29.10.21
a ROLE to PLAY at the 67 International Short Film Festival Oberhausen Germany 08.05.21

a ROLE to PLAY May Day screening for Newham Trades Council London 19:00 01.05.21
WORK plus artist Q&A, Bolsover Assembly Rooms 12.06.20 19:00 — POSTPONED due to CoViD-19
a ROLE to PLAY plus artist Q&A Bolsover Civic Society Bolsover Library 10:30 16.05.20 — POSTPONED due to CoViD-19
WORK · online premiere  plus live online artist Q&A at 19:00 on International Workers' Day 01.05.20
WORK · Titchmarsh Clubroom Kettering 19:00 14.03.20
a ROLE to PLAY plus artist introduction, Freedom Centre, Bolsover 11:30 03.03.20
WORK plus artist Q&A, QUAD, Derby 18:30 28.11.19
Exhibitions
Put People First: a ROLE to Play screening alongside films from the TURC (Trade Union Resource Centre) archive, Vivid Projects, Birmingham 19—21.05.22

WORK · Vivid Projects Birmingham 03—25.04.20 — POSTPONED due to CoViD-19
Conference and Symposia Presentations
a ROLE to PLAY: showing social haunting through collaborative filmmaking Haunts #4 · Sheffield Hallam University Space and Place Group 17.06.21, 19:00—21:30
a ROLE to PLAY · XXI IOHA International Oral History Association Conference — Harmony and Disharmony: Bringing Together Many Voices National Library, Singapore 22—26.06.20 — POSTPONED due to CoViD-19
a ROLE to PLAY online research presentation, Sheffield Hallam University 02.12.20
Writing
In the Shadow of the Beast Tribune Magazine first published online on International Workers' Day 01.05.20
Publication
a ROLE to PLAY in WORK animate projects, 2020, p.70—89, 99—103, 114—118, 130—131, 141—143, 154—155, 159, 168—169, ISBN 978-1-5272-5882-2
Class Work Tribune 2020, 16-page newspaper edited by Esther Johnson, published to accompany the film a ROLE to PLAY
a ROLE to PLAY can be viewed HERE
Full CC (Closed Captions) and subtitles for deaf and hard of hearing are available here
Working with Freedom Community Project adult reading group members, food bank users and volunteers, a ROLE to PLAY illuminates experiences of contemporary working life in post-industrial Bolsover, a Derbyshire constituency where coal was once king.
The film experiments with methods of co-creation, radical documentary theatre and oral testimony, with project participants storytelling privileged over the questioning/answering scenario of traditional documentary. The title echoes the participatory film process, and also the roles everyone takes in their working and non-working lives.
Made in direct response to the increasing numbers of unemployment and zero hour contracts across the UK, the film explores the realities and struggles that some residents of Bolsover have encountered in gaining and sustaining employment amidst the town's post-mining legacy of deindustrialisation.
Contributors
We hear the lived experiences and dreams of town residents including:
Stephen Cotton whose engagement with the Freedom Community Project began as a client of the food bank; going on to volunteer and then secure a job there.
Adrian Drury a freelance tattooist and zero-hour contract worker. He also plays electric guitar and has been in several bands.
Jeanette Haigh a retired primary school teacher who runs Freedom Community Project's weekly Bolsover reading group.
Serena Hammond a performing arts student who has been a carer for her mother Linda, a member of Bolsover reading group, since she was a teenager.
Dennis Skinner trade unionist, ex-miner, and MP for Bolsover from 1970—2019.
Themes include positive/negative work experiences, volunteering, lack of work, zero-hours contracts, unemployment, and the barrier that low reading and writing skills can have on work.
a ROLE to PLAY has been supported by WORK an ambitious and innovative practice development programme devised by Animate Projects to explore ideas and realities of what 'work' means for the way we live today.
Four contemporary moving image artists were selected to create films in partnership with one of four Midlands based organisations: Dryden Goodwin with QUAD Derby // Jenny Holt with Fermynwoods Contemporary Art Thrapston // Esther Johnson with Junction Arts Chesterfield // Adam Lewis-Jacob with Vivid Projects Birmingham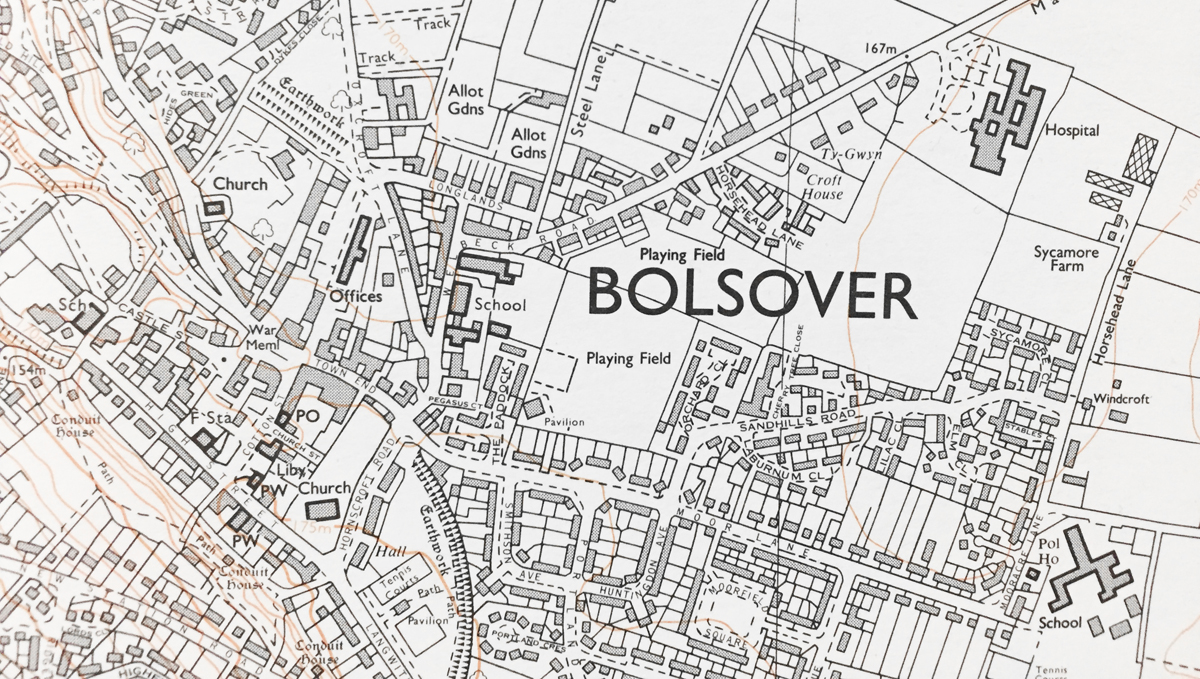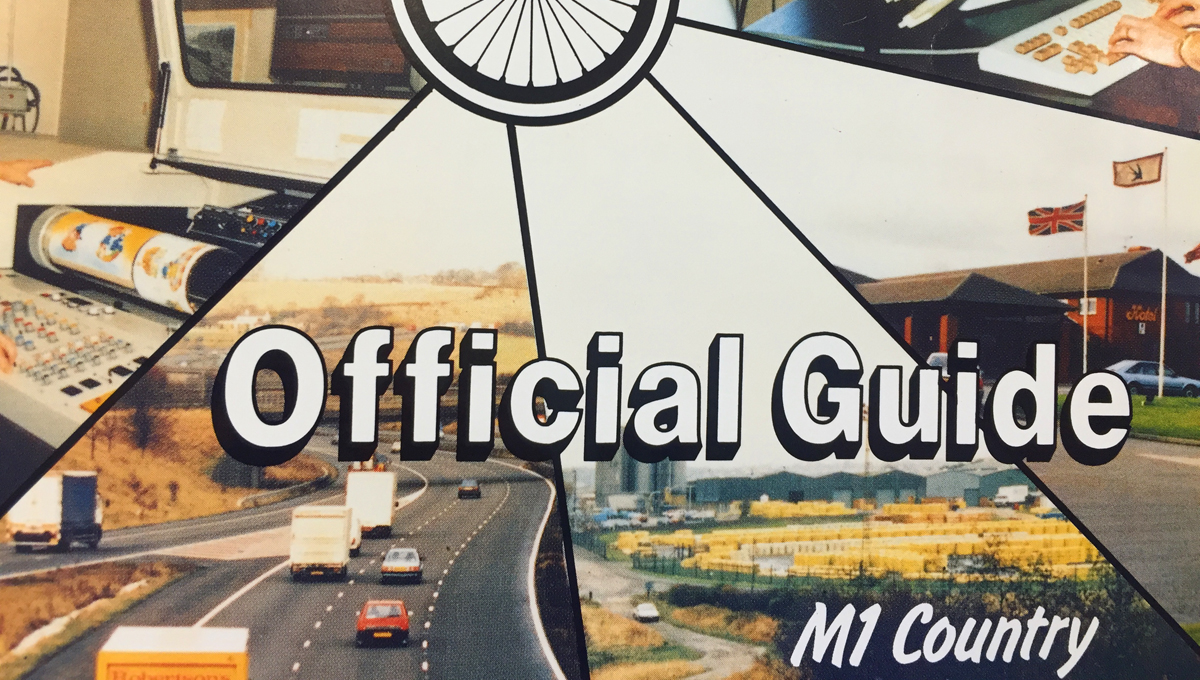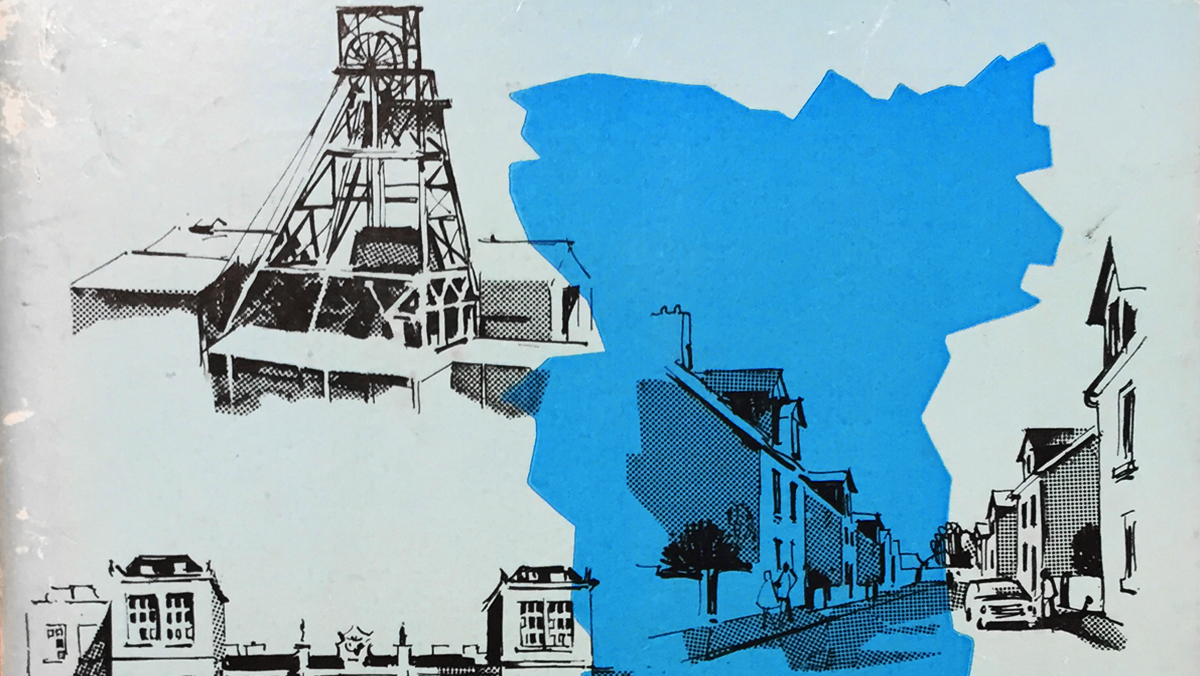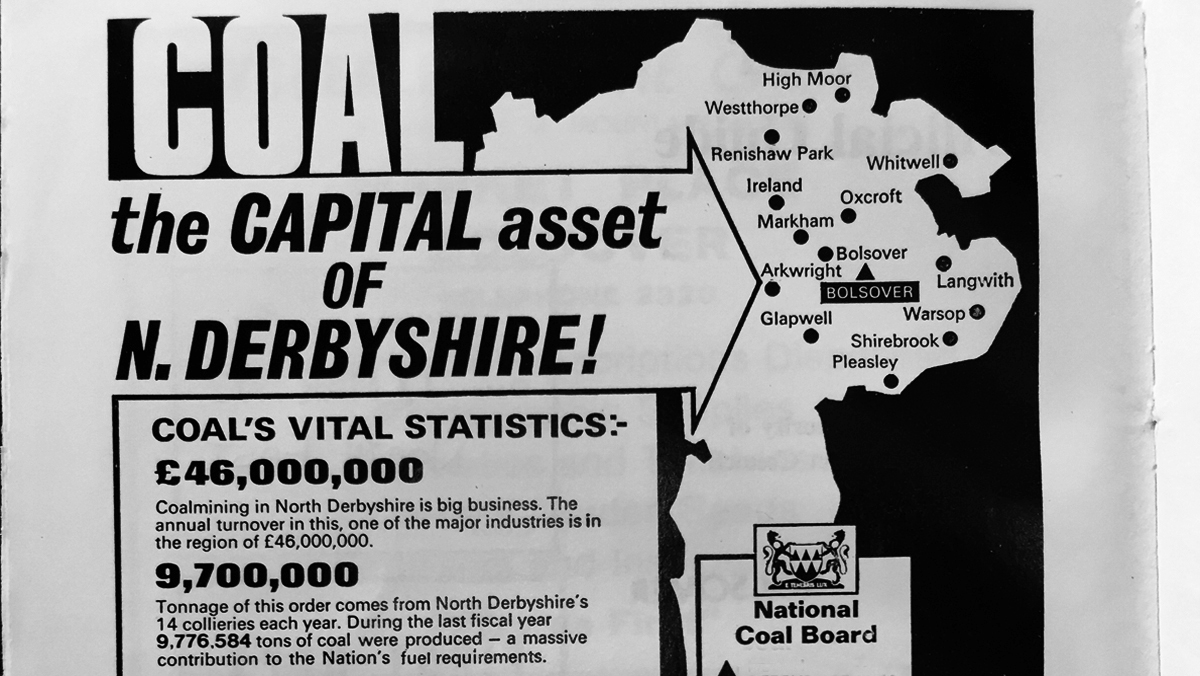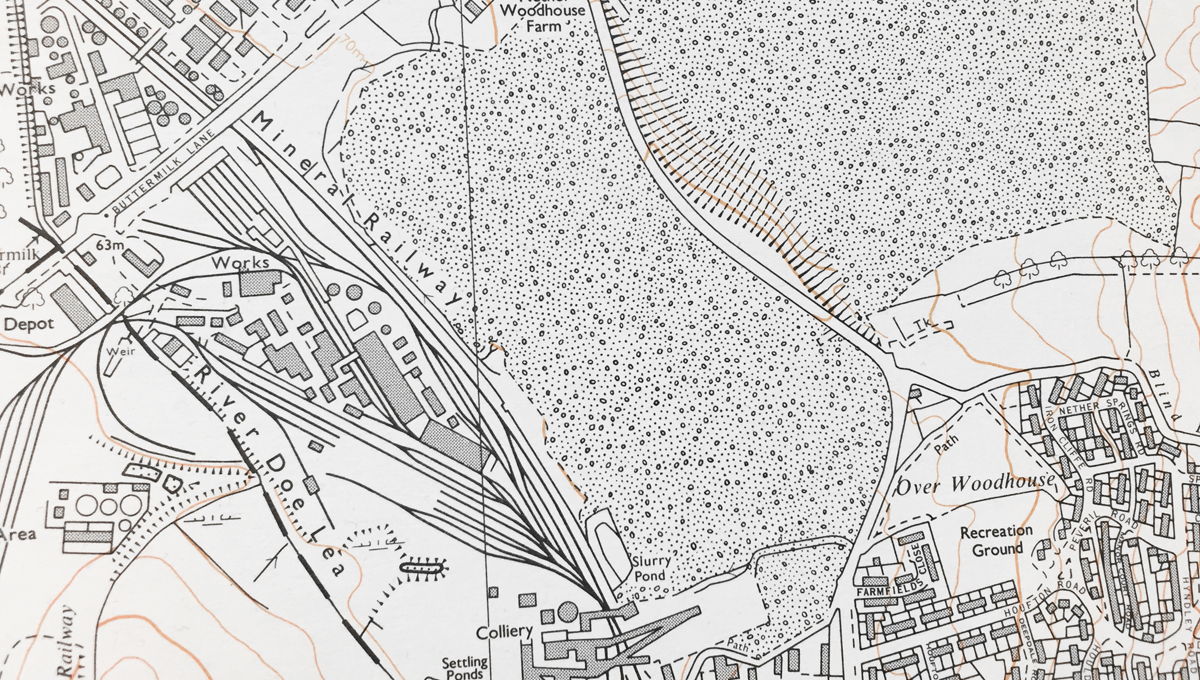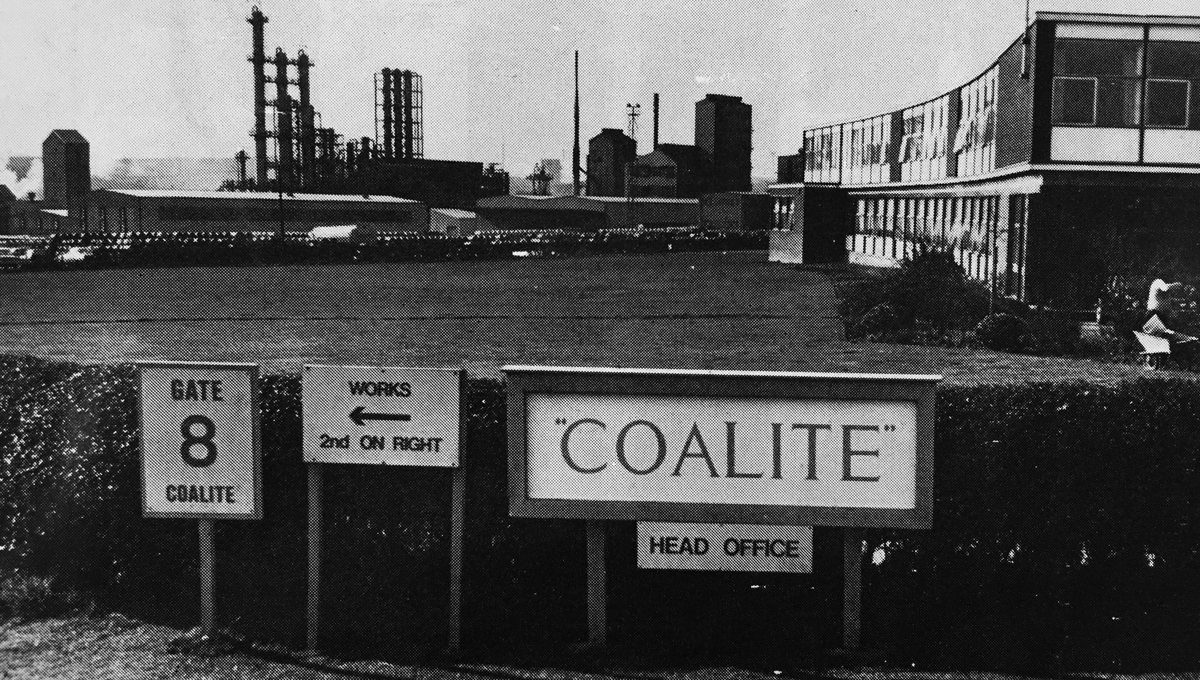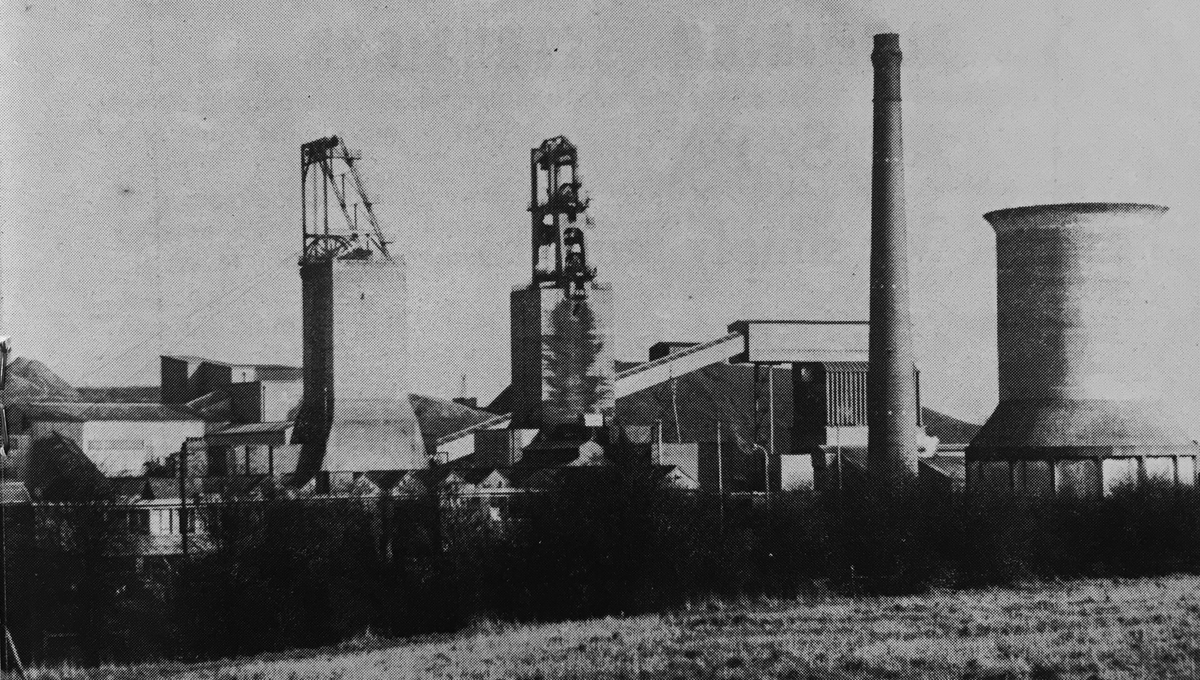 Class Work Tribune
Esther has produced a 16-page newspaper as part of this project which features work by the reading group, material from the film, and a newly commissioned poem by Ian McMillan, Here are the Words in the Reading Bank.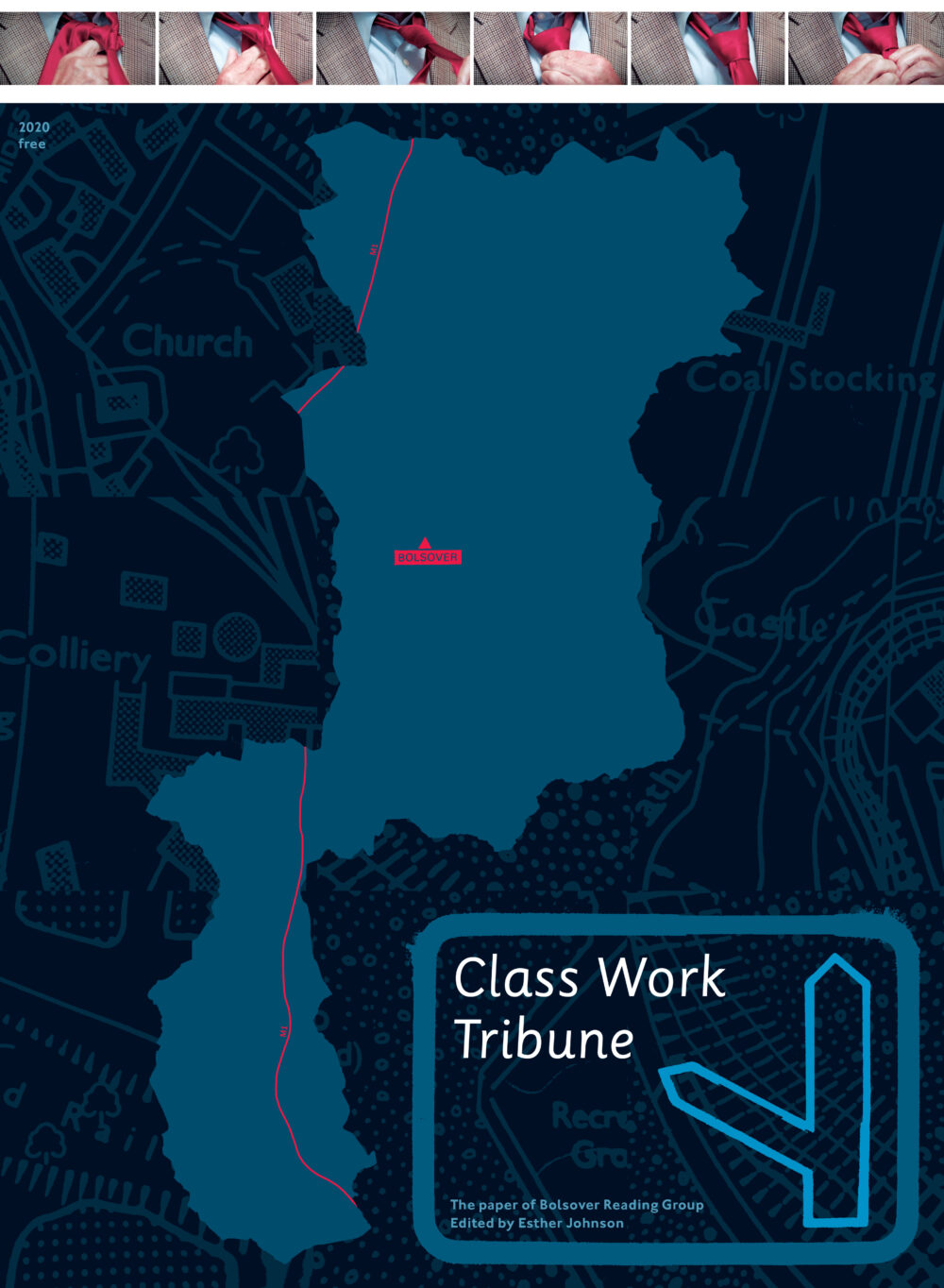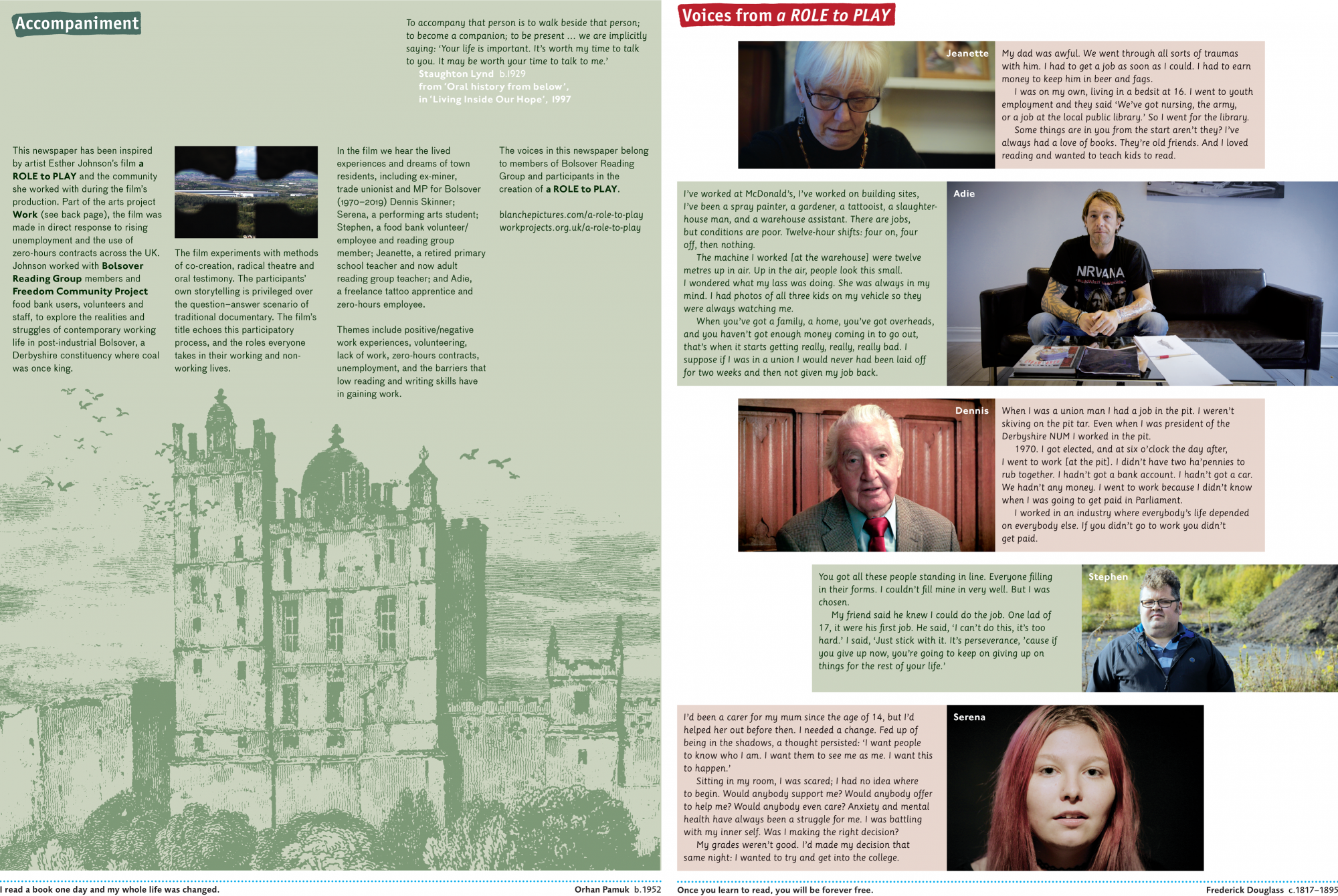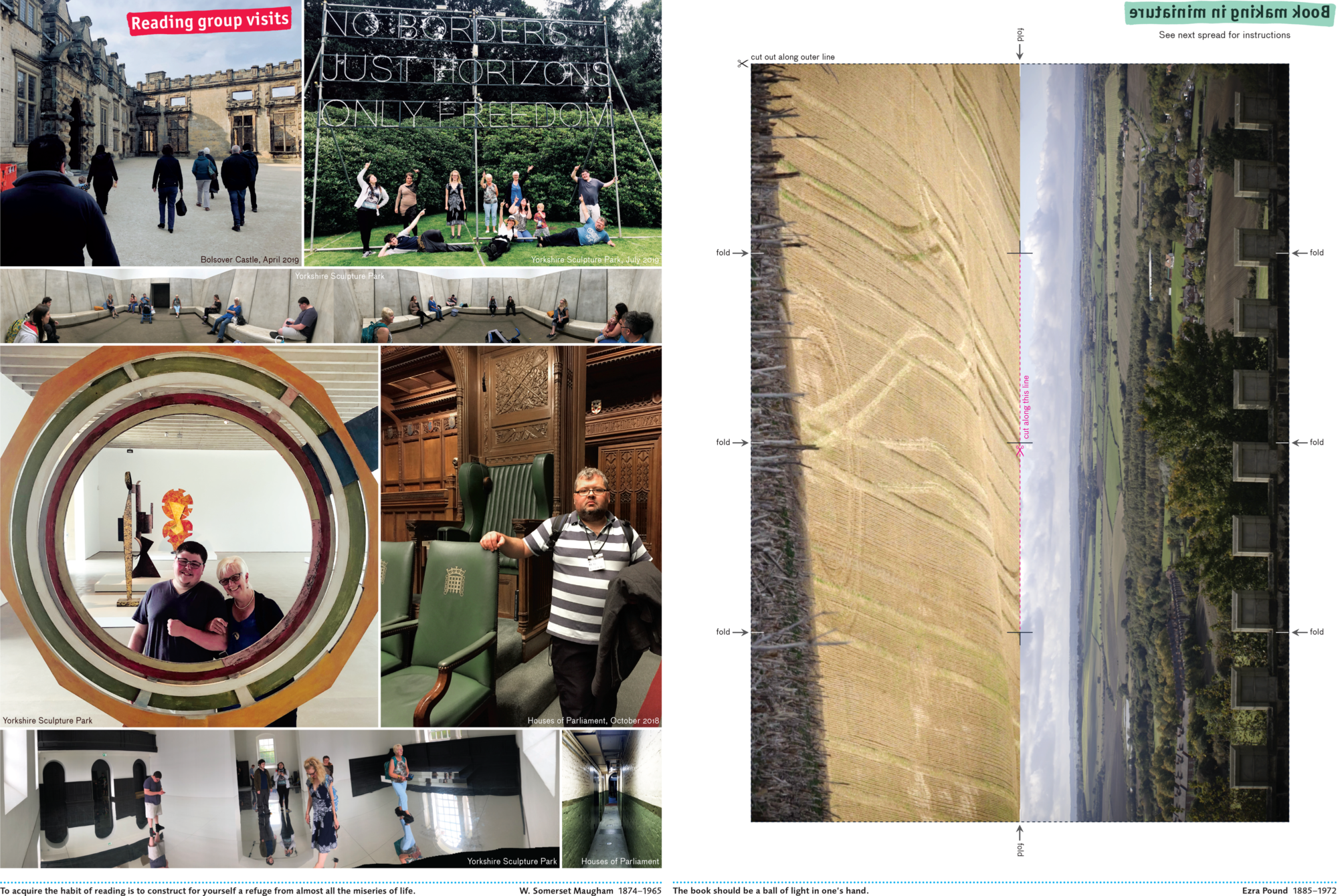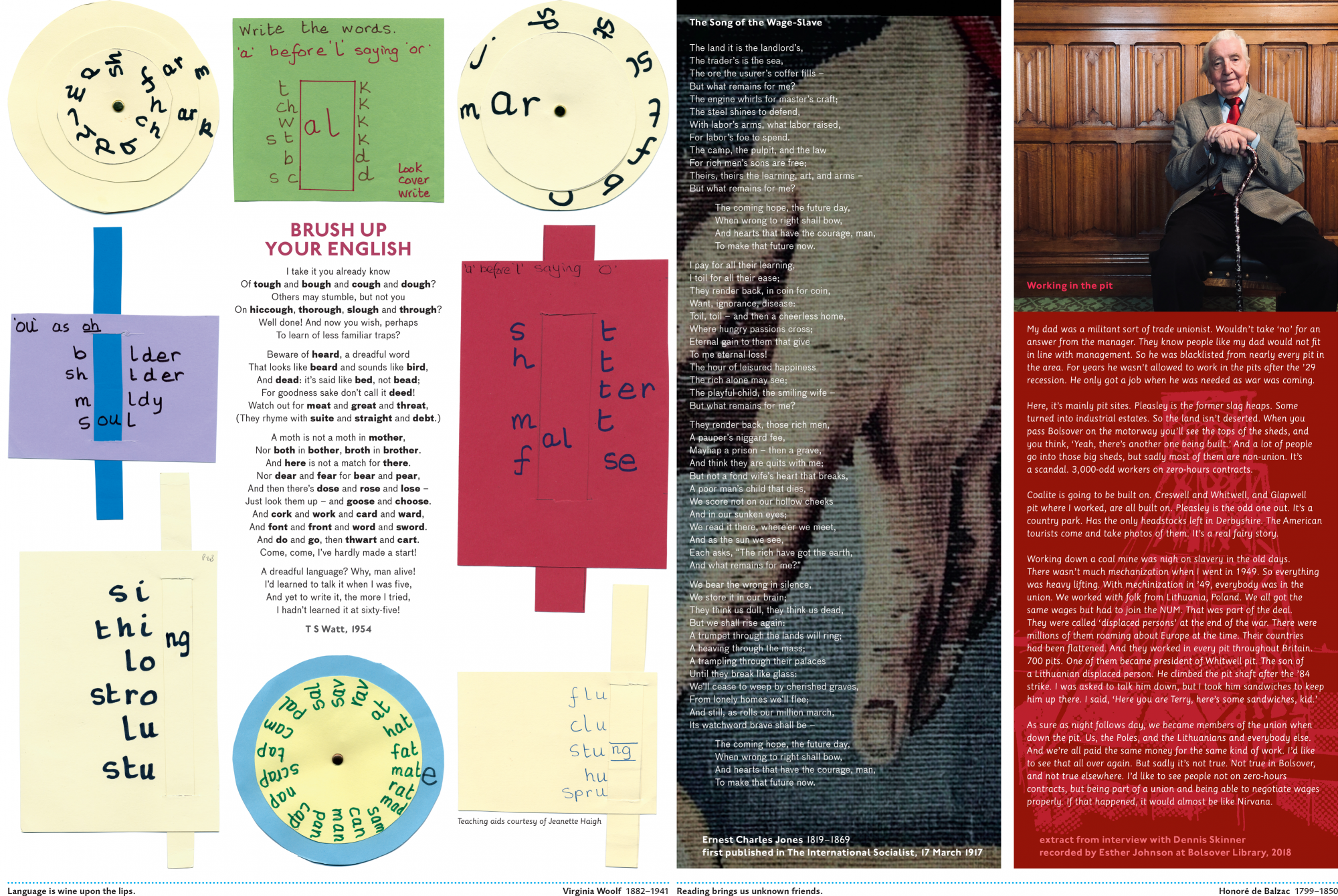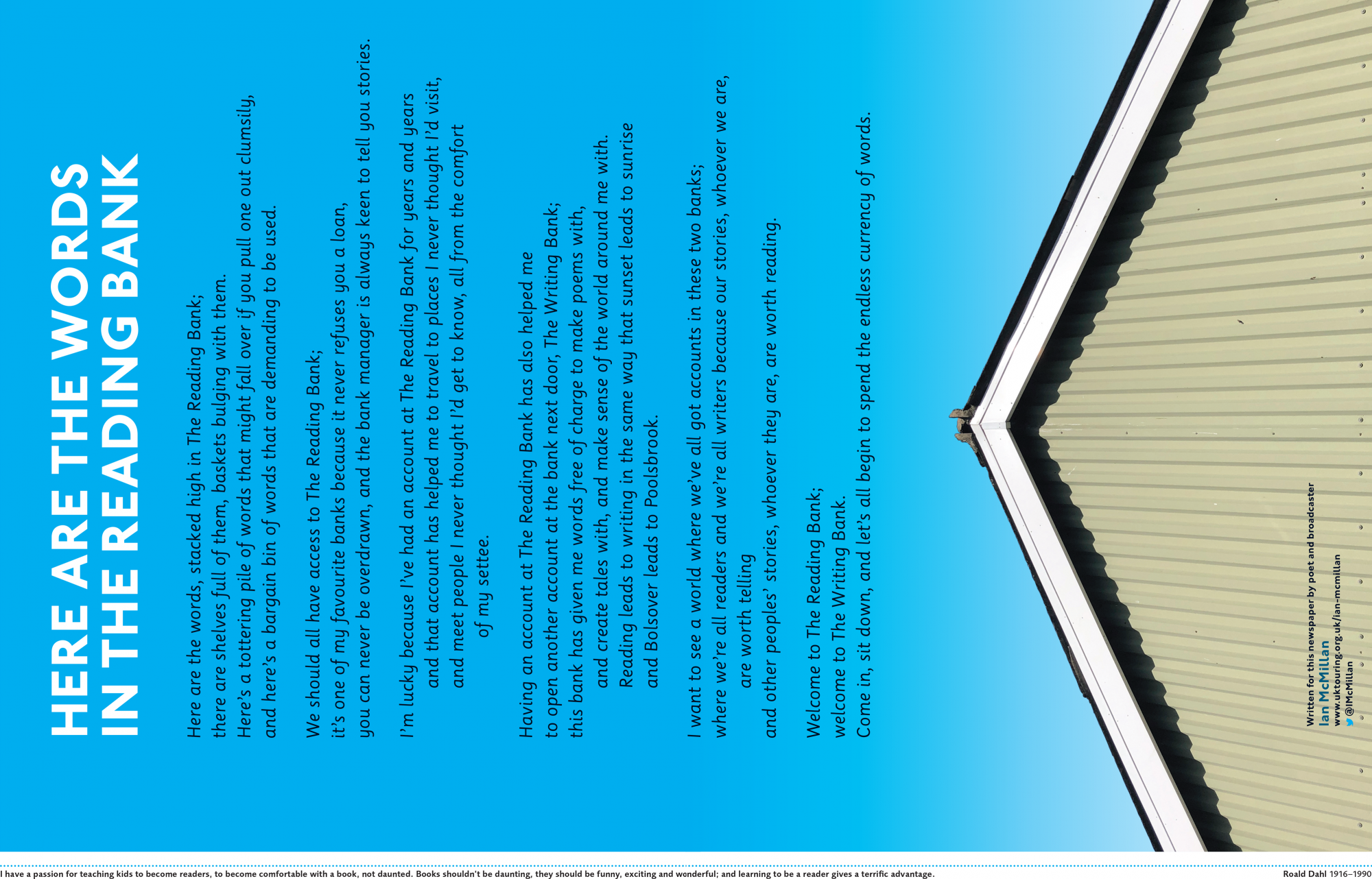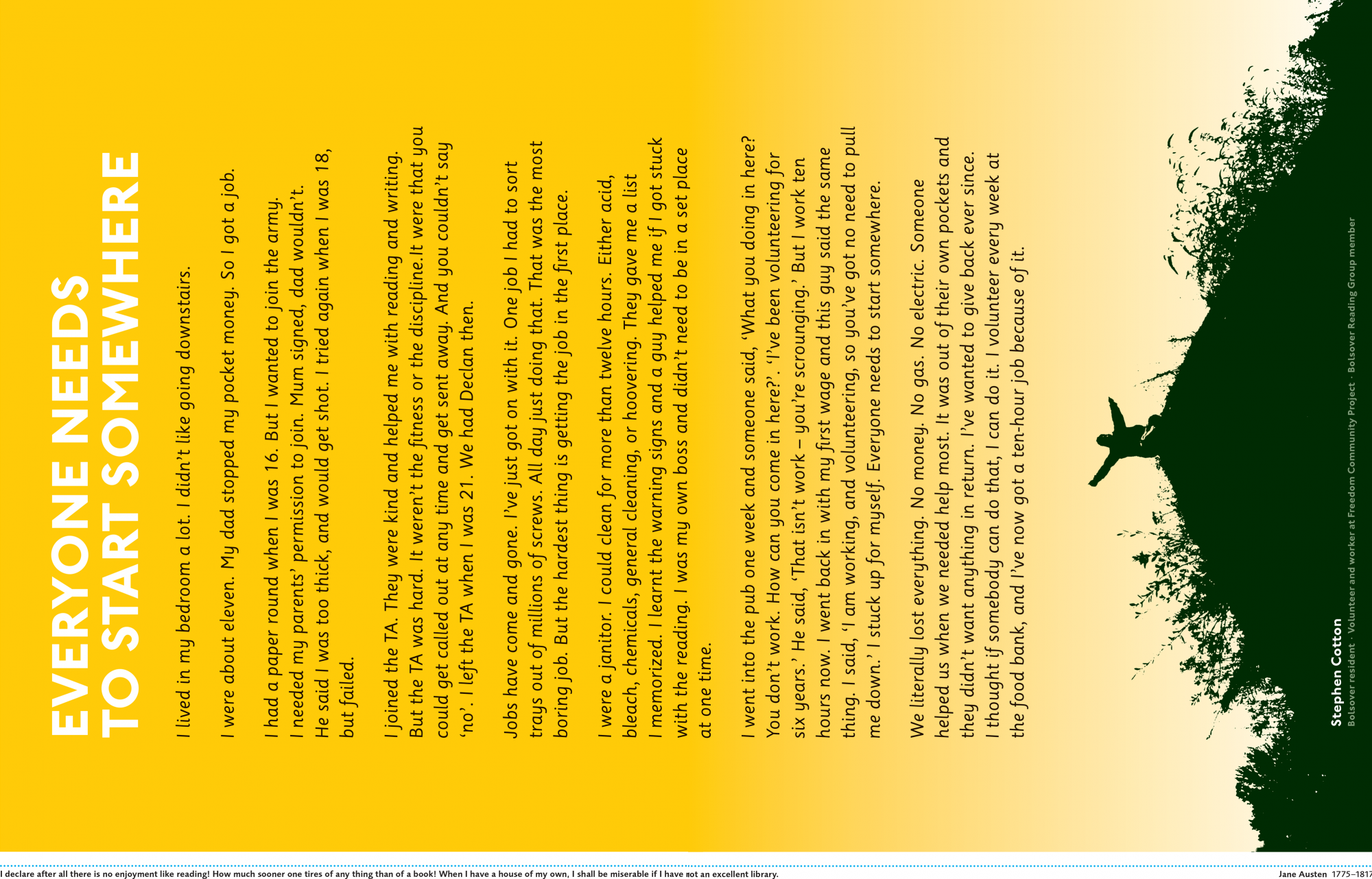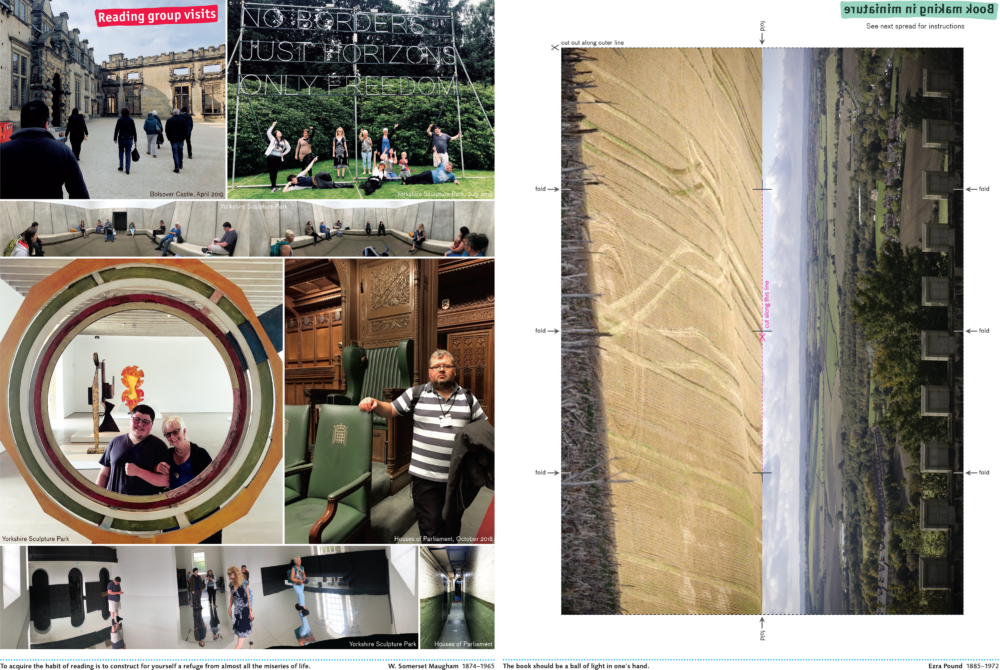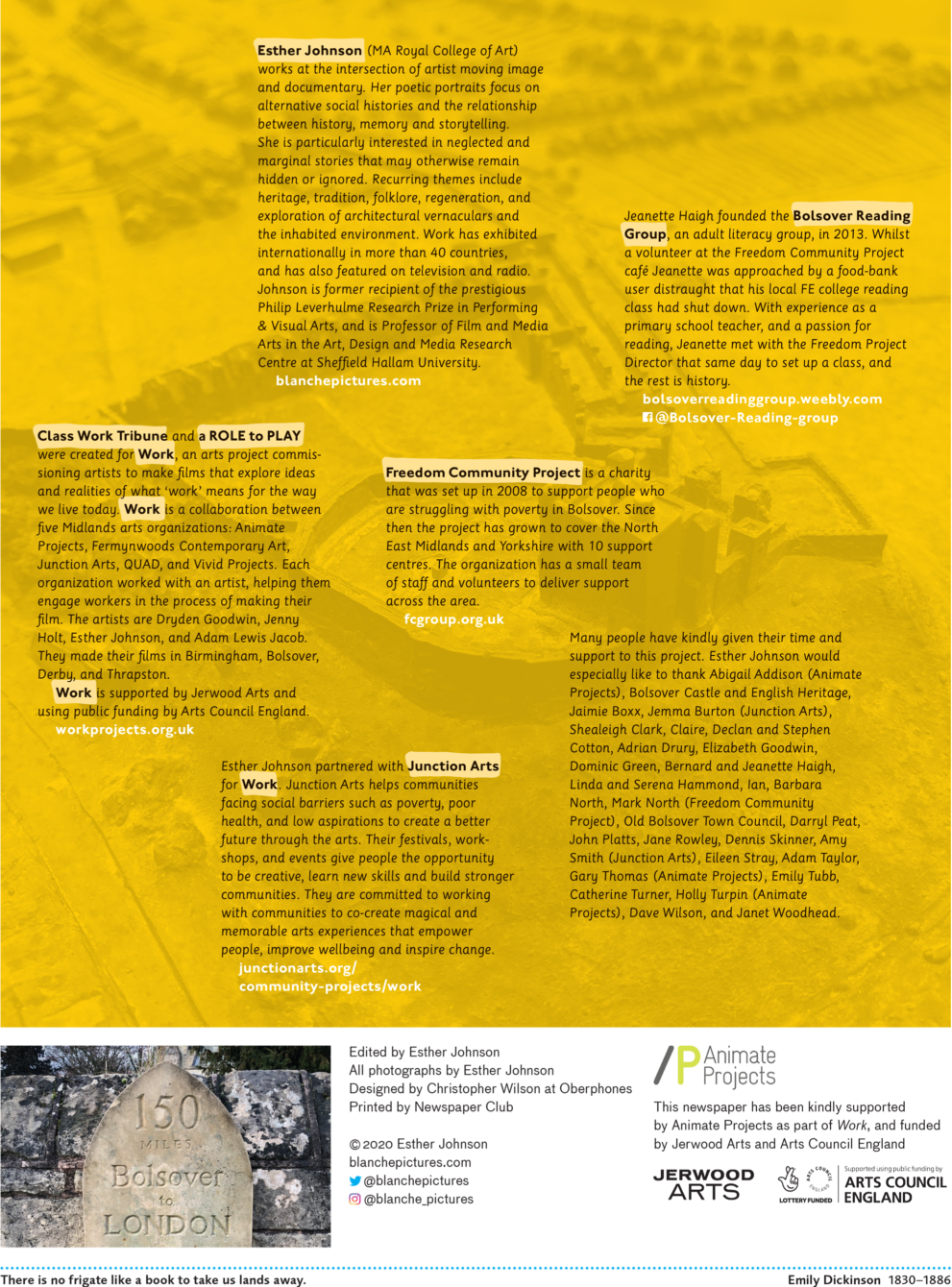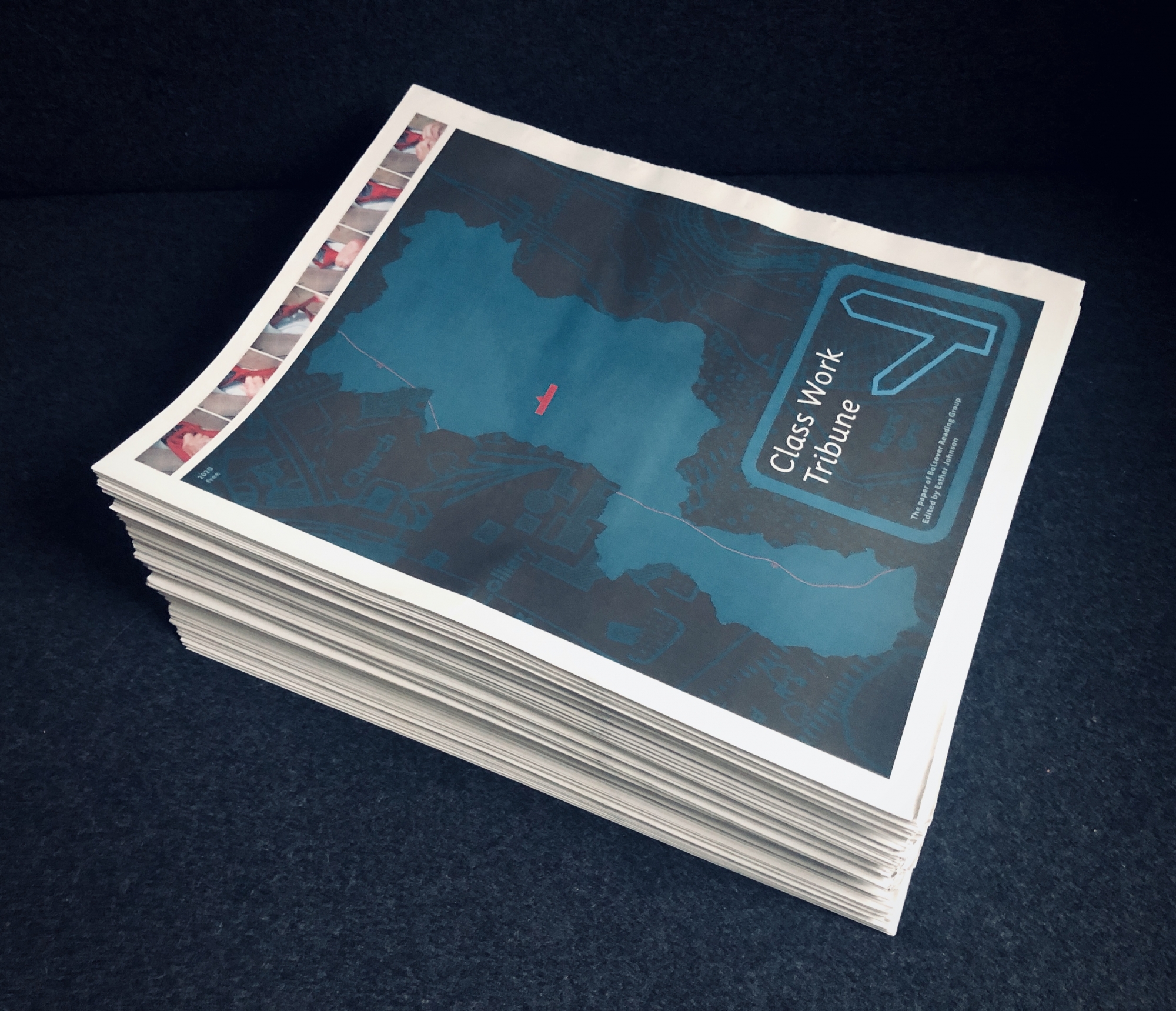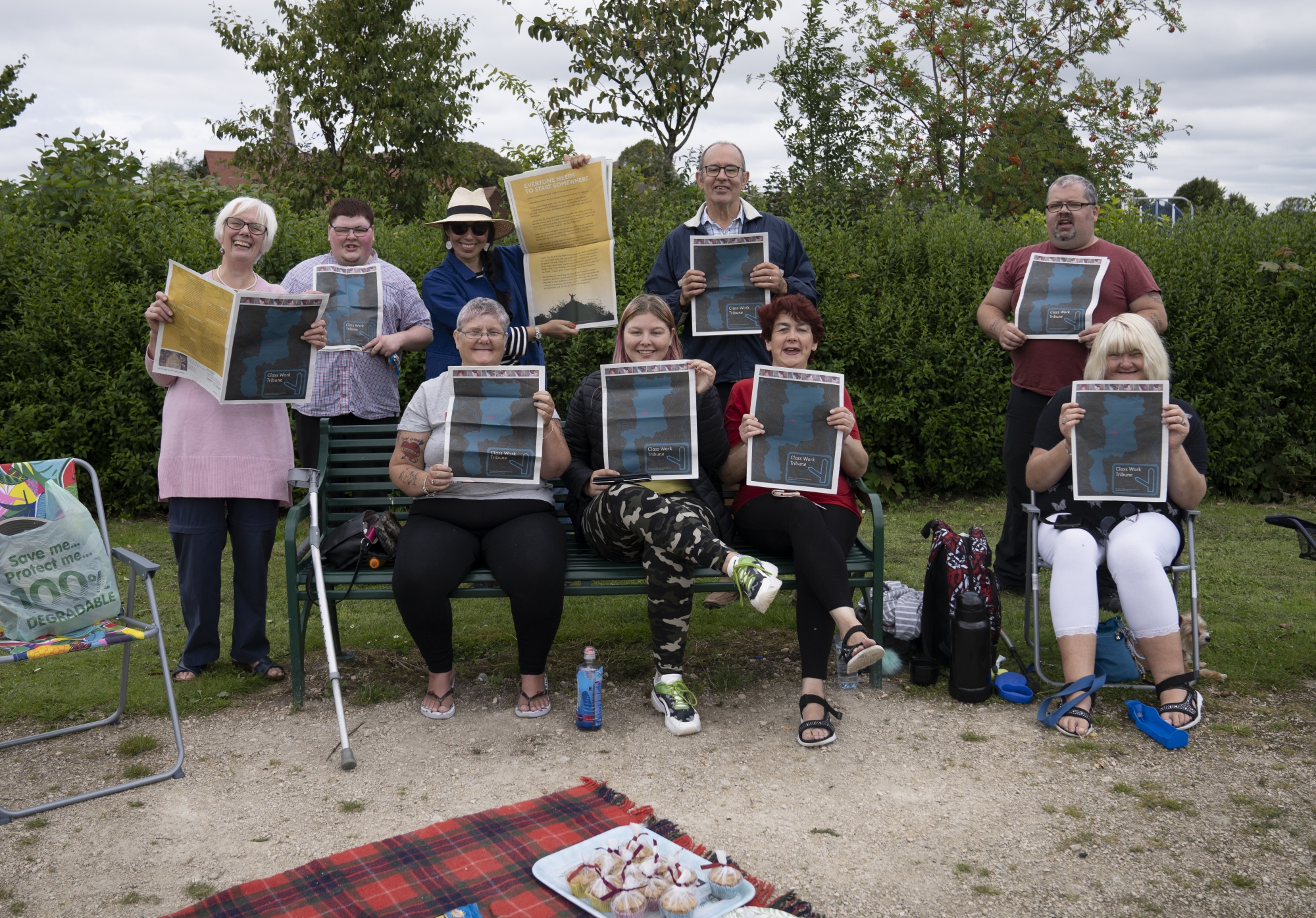 supported by
Arts Council England, Jerwood Arts, Animate Projects