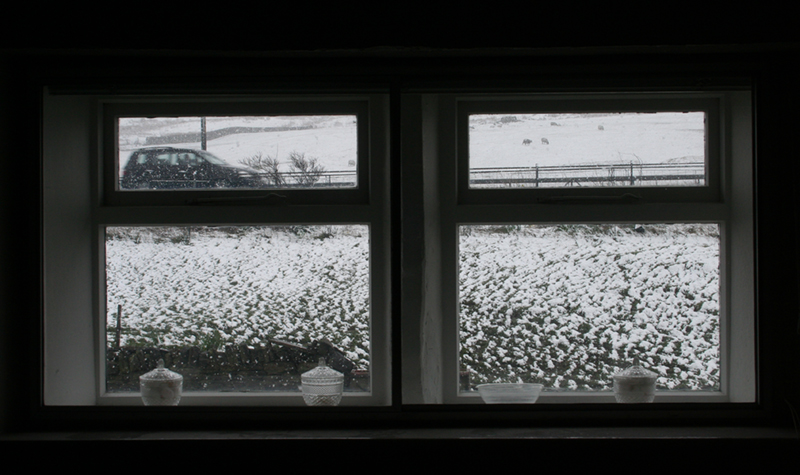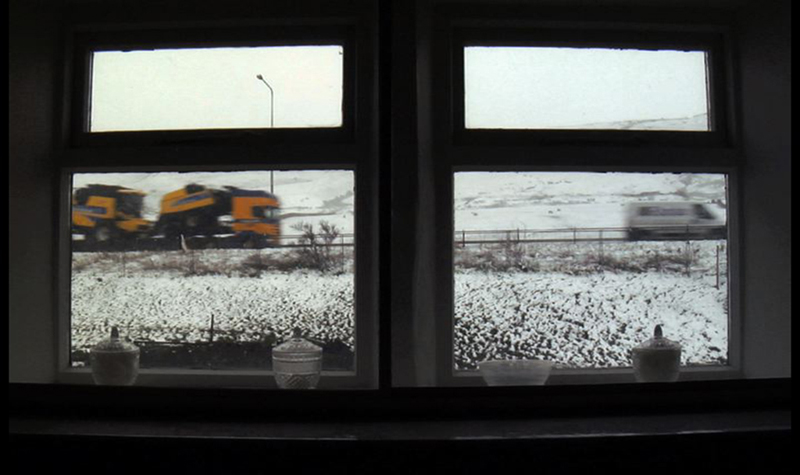 2008 // 3′ // HD // UK // British Films Directory
a film by
Esther Johnson
featuring the voice of
Paul Thorp
cinematography and sound by
Esther Johnson
distribution
vTape!
commissioned by
Lumen
funded by
Screen Yorkshire
Arts Council England
National Lottery
---
Highway Home is a contemplative, static study of an unlikely landmark in an unlikely place. Normally only glimpsed in passing, Stott Hall Farm, a cottage built in 1737, floats islandlike in the middle of the M62 in West Yorkshire, whilst cars and lorries thunder past on both sides. Despite the farm seemingly being a monument to stubbornness, the urban myth being that the farmer refused to leave when the motorway was built in the 1970s, the truth of the story is that the east- and westbound carriageways could not meet due to the lie of the land, and the motorway had to be parted around the cottage to avoid landslips.
"I've got used to living here now…It's quite a strange place to live, It's just a bit noisy at times. I could do with finding a switch to turn the noise off, but I haven't managed to find that button yet."
– Paul Thorp, owner of Stott Hall Farm
Background on commission
The Composure commissions encouraged a focus on considered shot composition to move away from a reliance on post-production techniques. In order to achieve this, films were required to be a single HD locked-off shot, with a running time of between 2 and 3 minutes and no post-production editing.
---
Gallery Exhibitions
Englandabend WP8 Gallery, Dusseldorf, Germany 27.08.11
Ever Remote Crescent Arts, Scarborough 15.07.11
Ever Remote Site Gallery, Sheffield 12.07.11
Ever Remote South Square Gallery, Bradford 06.05.11
SoundFjord Gallery, London 04.11
Frieze Art Fair ResoVision Event, London 14.10.10
Urban Voids and Absences Turn-Berlin Gallery 27.04.10–21.05.10
Composure Sheffield Institute of Arts Gallery, Sheffield Hallam University 15.01.09–06.02.09
Yorkshire Landscapes, Serendipity Art, Wakefield 07.09
The Super Estate: EXHIBIT Gallery, London 06.07.09
North Temporary Art Space, Halifax 03–24.04.09
CPR: Candid Arts Trust London 21.04.09
Composure: Impressions Gallery Bradford, UK 13.09.08–09.11.08
Hold and Freight Gallery London 21.08.08
Film Festivals and Special Events
Alchemy Film Festival Christmas with Alchemy 09.12.16
Oblíqua, primeira edição da Mostra Internacional de Videoarte & Cinema Experimental Lisbon, Portugal 04–10.05.16
The Night Gardener Antimatter Film Festival Victoria, Canada 14.10.09
Photomonth: East London PhotoFest 04.11.09
Driving Between the Lines: The Flickering Light Philadelphia, USA 03.10.09
North by Northwestern Wigan 05.08.09
European Independent Film Festival Paris 13–15.03.09
Flatpack Film Festival Birmingham 14.03.09
6th London Short Film Festival ICA, UK 09–18.01.09
North West Film Forum Seattle, USA 12.08
CineCity, the Brighton Film Festival: videoclub 08 Lighthouse Brighton, UK 27.11.08
IDFA: International Documentary Film Festival Amsterdam The Netherlands 20–30.11.08
Phoenix Video Art Festival Brighton 11–12.10.08
Composure: Evolution: Lumen Leeds, UK 24.05.08